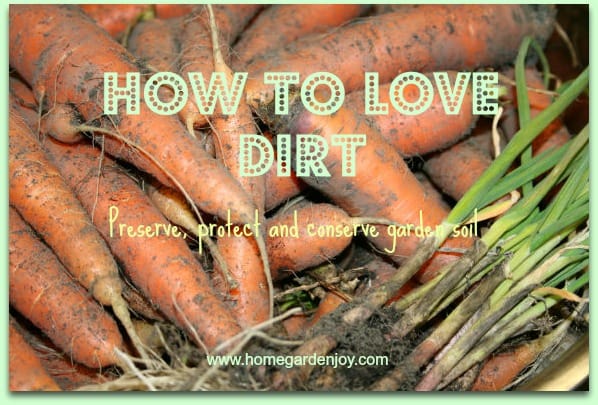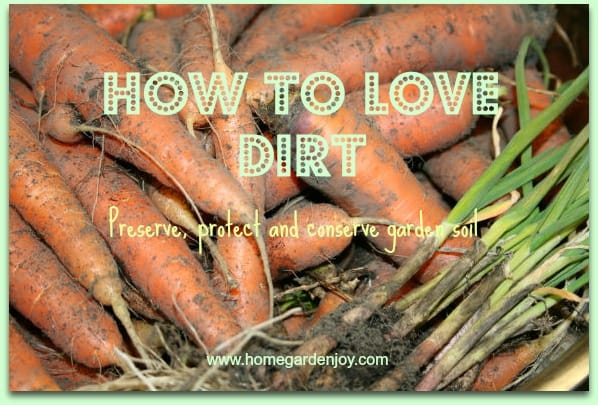 Working with your soil properly, caring for it, conserving it and yes – learning to love dirt – should be tops on your lists of things to do. I mean it. I'm not being entirely facetious here. Soil, otherwise known as garden dirt, is the foundation for all plant life. Without great soil you won't be able to grow nutritious vegetables and beautiful flowers.
In my posts this week, I've tried to share with you the mysteries of soil, the beauty, the amazing miracle that lies within its brown depths. Today, let's talk about how to take proper care of your garden soil so that it takes care of your plants – and you – for many years to come.
Working with Your Soil: The Basics
In the springtime, it's tempting to rush into the garden, spade in hand, ready to turn over the soil and plant your seeds. Before touching your garden soil, I want you to do one simple thing: pick up a handful of dirt and squeeze it.
That's right. Pick up a golf ball sized clump of dirt in your bare palm, and squeeze it.
Now a few questions:
Could you even pick up the dirt with your bare hands, or did you find yourself ruining your manicure digging into the rock-hard soil?
When you grabbed the ball of dirt, did it feel cold?
When you squeezed it, did it form a hard little ball that you could whack with a putter across the green like a golf ball?
When you squeezed it, did your hand get soaked from water seeping out of it?
Why the questions? Well, if you answered "yes" to any of them, you'll have to wait a little while before turning the soil or planting.
Soil doesn't like to be disturbed when it's too wet. If you try tilling, spading or even walking over too-wet garden soil, it squashes down. The proper name for this is compaction. Compaction presses out the tiny air pockets between soil particles and actually harms the soil structure. More gardens are harmed by overly zealous spring spading than anything else!
Soil is ready for your tender care when it is…
Warmed up enough so that it is loose: You should be able to easily dig a little trowel into the first few inches, at least.
Warm to the touch. Most vegetables and flowers need soil that is at least a little warm.  The sun's rays are always warming the soil, but they really begin to help warm it up after the Spring Equinox.
Not too wet: If water went squishing out all over the place when you squeezed the soil, it's too wet to work with. Let it sit for a few dry days until most of the water wicks away.
Prevent Soil Erosion
Soil erosion also threatens garden and lawn areas. When topsoil is washed away, it is difficult to replace. If there are areas of your garden or yard where water from downspouts or gutters carves channels or holes in the soil, erosion might be taking place, and you may be losing valuable topsoil.
To prevent erosion in the garden:
Don't leave big areas of bare soil. Plant a cover crop to hold soil in place.
If gutters or downspouts are causing erosion, experiment with rain barrels to catch water. Use the rainwater to water house plants, window boxes.
Consider installing dry wells and underground pipes to guide water away from your home's foundation and fragile garden areas.
Work with water-soaked areas to plant rain gardens that use only natural water for plants.
Treat your soil gently and kindly. It took millions of years for it to develop into topsoil, yet you can ruin it in a few careless years! Far too many homeowners find themselves in the odd position of having to truck topsoil to their homes because of careless builders or contractors ruining the existing soil. Pay close attention to how you treat your soil, and in return, it will treat you kindly by nourishing your vegetables, herbs, and flowers, and continuing to serve you for many years to come.