It's easy to learn how to make elderberry syrup. Elderberry, the berries from the shrub Sambucus nigra, is a relatively safe and effective treatment for influenza. There's research to support this assertion. It is also helpful when you have the common cold.  Here's how to make elderberry syrup that tastes good, and why it works according to the research.

How to Make Elderberry Syrup
I made my first batch of elderberry syrup from a kit purchased from my friend Beth, who owns and runs Long Ears Herbs, an herb farm and craft business in Pamplin, Virginia. Beth sells her kits locally at farmer's markets, craft fairs and the like. If you can, buy your kit from Beth. It contains everything to make a batch of elderberry syrup.
However, if you aren't from my local part of central Virginia, and you need to make it yourself, you can order the supplies from Amazon. I have links at the end of this article to Amazon products you can use instead of Beth's wonderful kit.
To make elderberry syrup, you'll need:
2/3 to 1 cup of dried elderberries.
1-2 cinnamon sticks
1 tablespoon fresh or dried ginger root
1/2 cup raw honey
3 1/2 cups of water
A pot to boil the water
A clean bottle with stopper to store your syrup in the refrigerator
Cheesecloth to strain the mixture
It takes about one hour to make elderberry syrup, but you can work on other projects while it's cooking. Heat the water on the stovetop and when it comes to a boil, add the elderberries, cinnamon, and ginger.
Simmer for 30 minutes.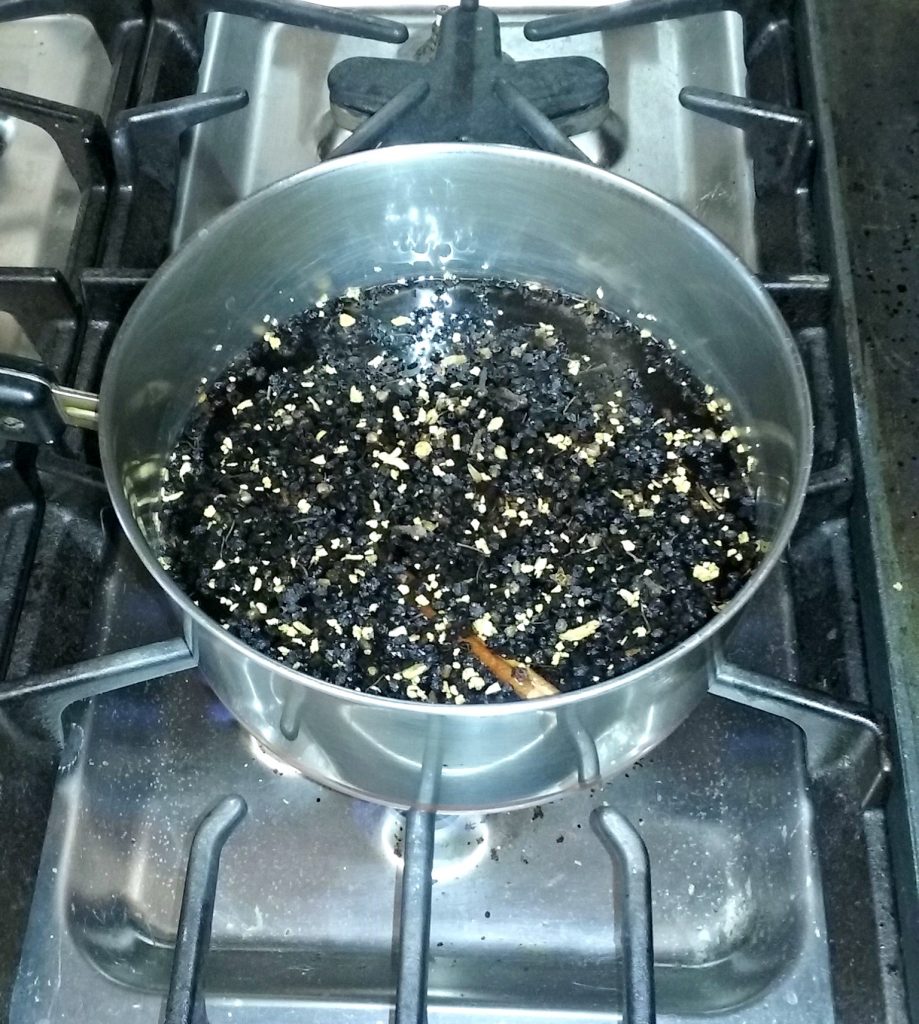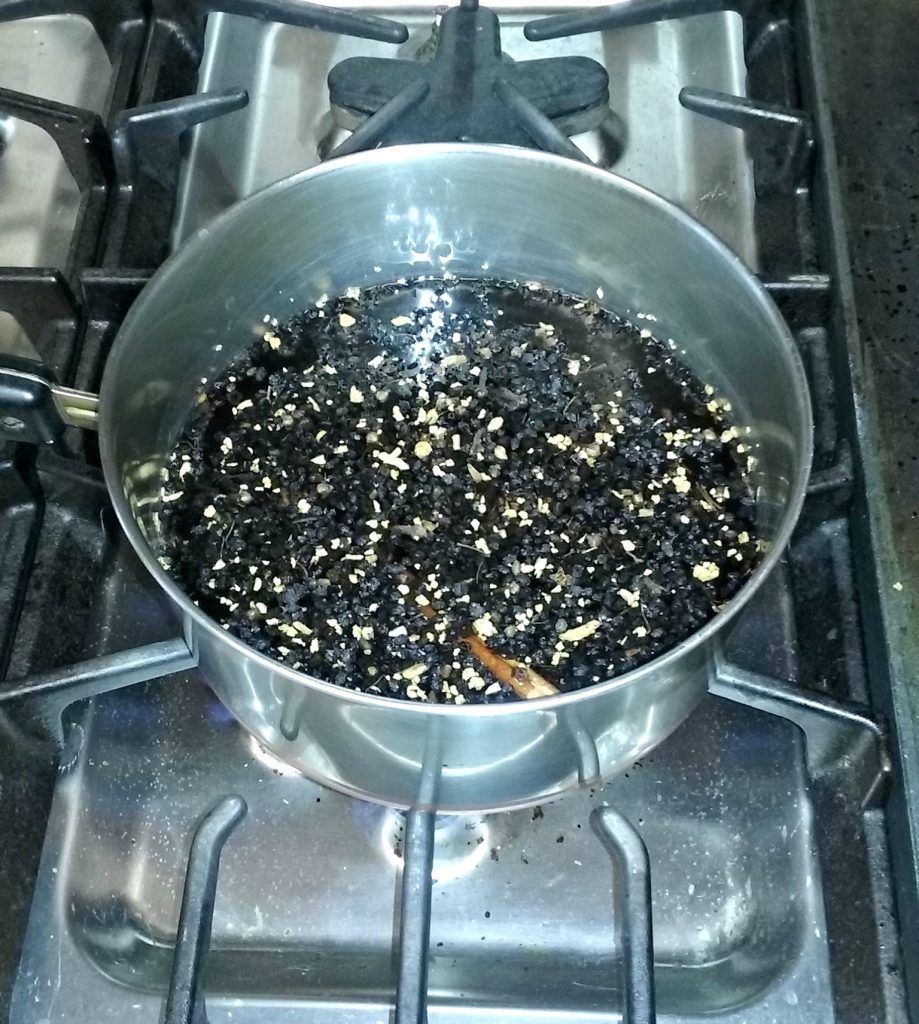 After it has simmered for 30 minutes, it will thicken. Use a potato masher to mash the berries to get more of the juice out.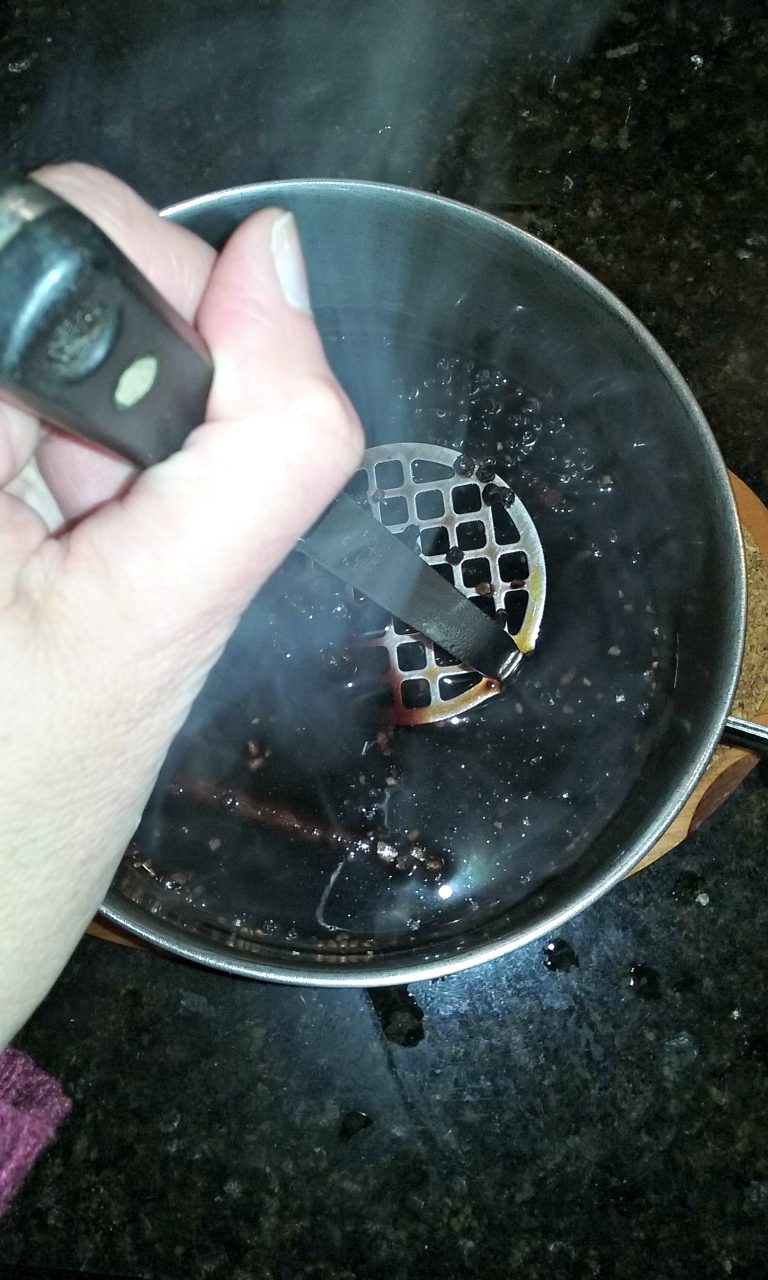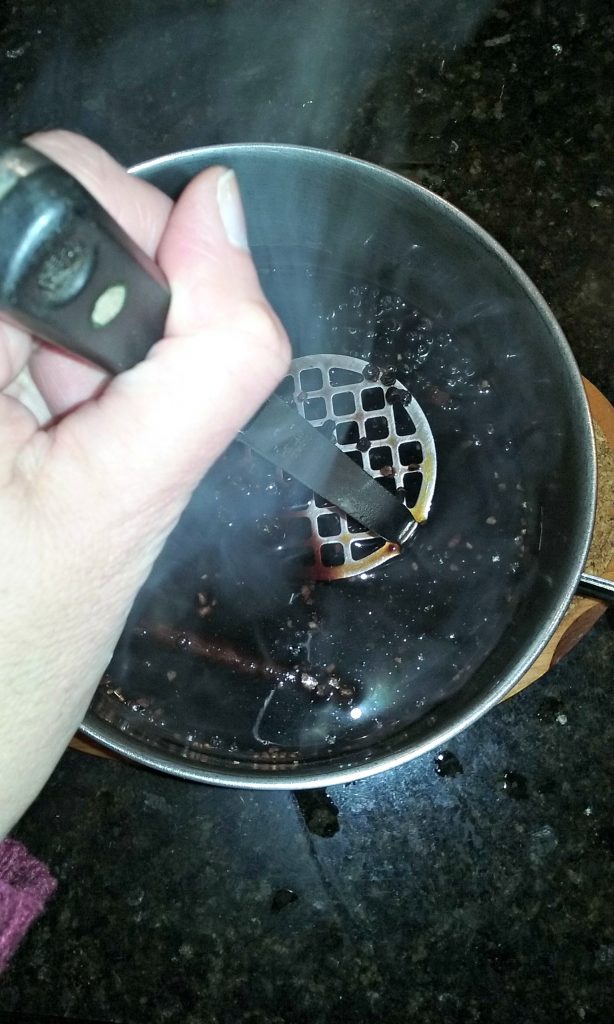 Strain the berries, cinnamon, and ginger out using the cheesecloth. I strain mine over a measuring cup so that it is easy to pour.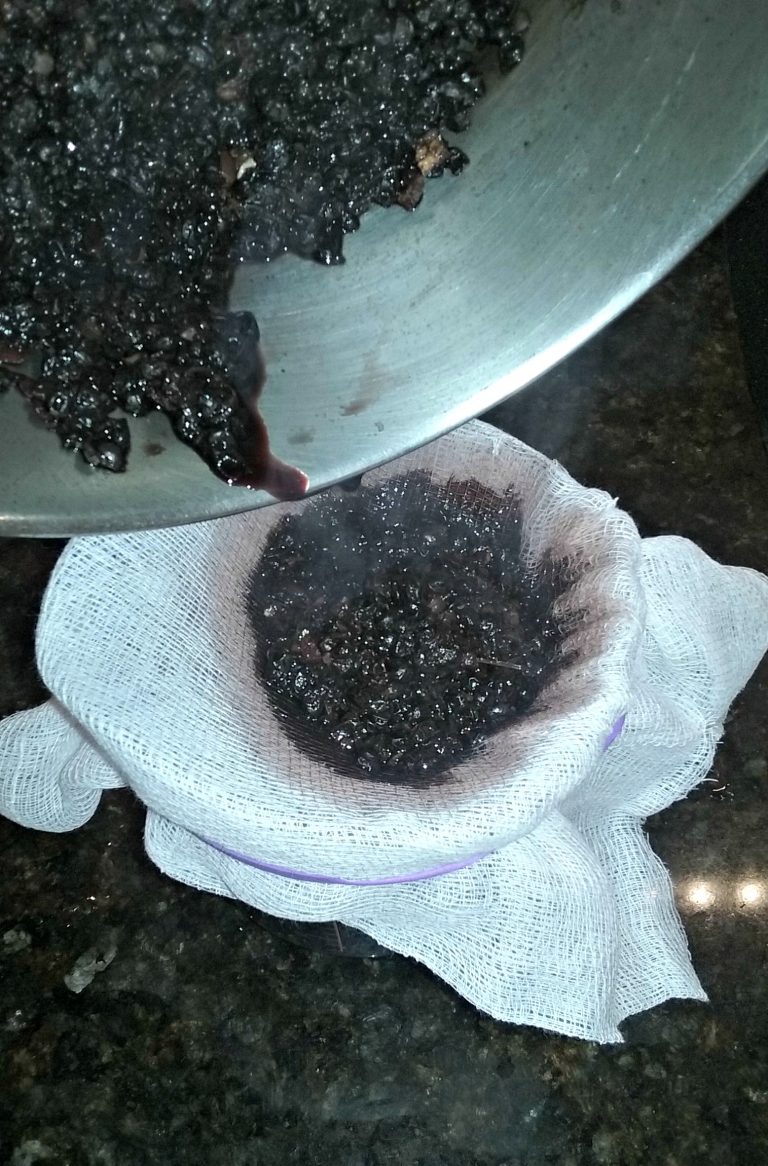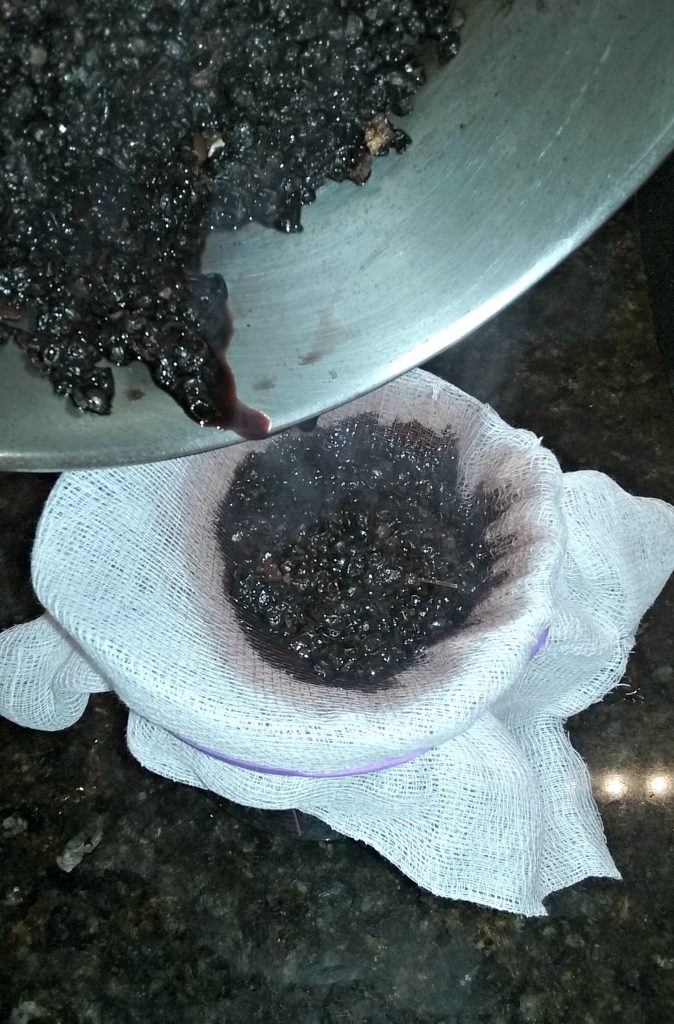 Add the honey, stir well, and pour the mixture into the bottle to store it. Add a label – this is very important! It's easy to forget what you have made.
Label your syrup bottle and add a date when it was created. It will keep in the refrigerator for up to 3 months.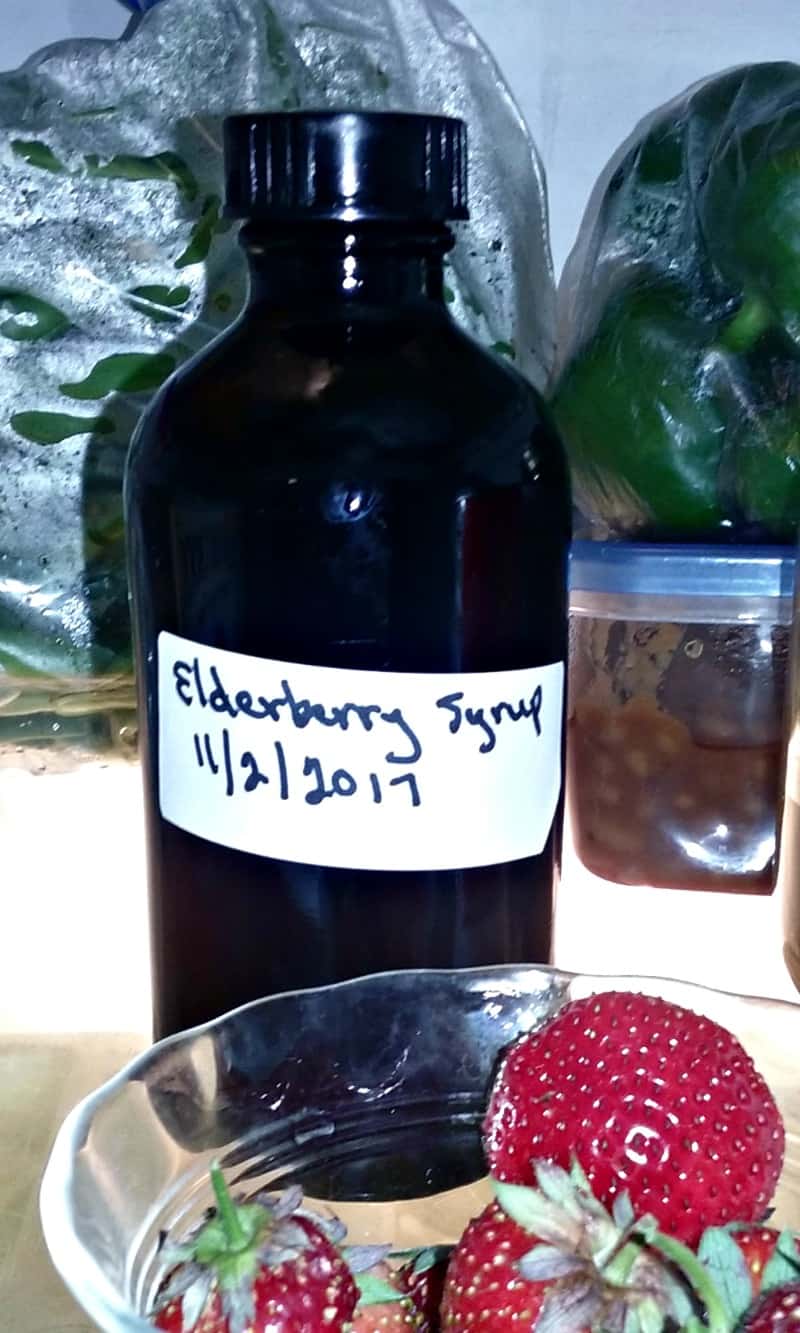 Take one tablespoon per day to ward off colds and cases of flu. If you do catch a sniffle, you can take up to 3 tablespoons per day by taking one tablespoon every 4-6 hours.
Do not take if you have any sensitivity or allergies to the ingredients. As always, consult a physician with any questions or concerns.
What the Research Says: The Effectiveness of Elderberries Against a Cold and the Flu
According to a research report found in PubMed, the U.S. National database of medical research, elderberry syrup is 'surprisingly' (their words, not mine!) effective. Sixty patients aged 18-54 participated in a randomized, double-blind, placebo-controlled study, the most rigorous scientific study. The study took place in Norway. Patients with the flu took 15 milliliters of elderberry syrup four times a day and recorded their symptoms. The people in the study did not know if they were taking the actual syrup or a placebo. The results? Those taking elderberry syrup found their symptoms reduced four days earlier than those taking the placebo.
Another study examined the effect of elderberry extra against gram-positive bacteria. Streptococcus pyogenes and group C and G Streptococci, and the Gram-negative bacterium Branhamella catarrhalis were included in the study as well as the influenza virus. The results demonstrated that elderberry syrup inhibits the propagation of both bacteria and viruses.
Yet a third study examined if elderberry can help air travelers ward off viruses caught during flights. The dry air, combined with the enclosed space, enables many viruses and bacteria to spread easily inside an airplane. The results of the study showed that elderberry safely reduced the severity and duration of colds.
In my own life, I know this very well. On Halloween this year, I came down with the flu. I haven't caught the flu since I was in high school – and that ended in pneumonia that kept me out of school for a week. My usual go-to herbs, echinacea and goldenseal, are great BEFORE I come down with a full-blown case of illness, but the flu came on so suddenly that I didn't have time to take them.
I did, however, have my elderberry syrup kit from Long Ears Herbs, and I was able to make a batch of syrup. The syrup, combined with plenty of rest and fluids, enabled me to be up and walking within 48 hours.
Hippocrates, the father of medicine and an ancient Greek writer, as well as St. Hildegard of Bingen, a doctor of the Catholic Church who lived in Germany around 1100, both recommended elderberry for the treatment of colds and cases of the flu. It's wonderful that the folkloric properties of elderberries as natural medicine are now supported by modern scientific experiments.
Elderberry syrup is inexpensive, easy to make, safe for most people, and it works. What's not to love?
Happy gardening. Keep growing – and stay healthy!
Buy the Ingredients on Amazon
These are my affiliate links.
One Pound of Organic Elderberries

Cinnamon Sticks

Boston Brown Round Bottles (what I use for herbal preparations)

Jeanne Grunert is a certified Virginia Master Gardener and the author of several gardening books. Her garden articles, photographs, and interviews have been featured in The Herb Companion, Virginia Gardener, and Cultivate, the magazine of the National Farm Bureau. She is the founder of The Christian Herbalists group and a popular local lecturer on culinary herbs and herbs for health, raised bed gardening, and horticulture therapy.