This recipe for butternut squash risotto includes two other tastes I love – sage and caramelized onions. It's a rich, savory yet sweet low-salt vegan dish that the whole family will love. It is great as a Thanksgiving side dish or main vegan Thanksgiving dish.
Butternut Squash Risotto Recipe
This butternut squash risotto recipe is low-salt, low-fat, and vegan. Perhaps more importantly, it tastes great! You won't miss the salt or the dairy in this yummy creamy-savory treat.
Growing Butternut Squash
This summer, I found it hard to find many gardening supplies I usually find with ease, including garden seeds. I read somewhere that increased demand due to the pandemic caused gardening supply shortages. People who were staying home were suddenly finding time for hobbies they'd always wanted to try, and gardening is one of them.
While I'm delighted that so many people are interested in gardening, it made finding seeds difficult. I dug into my stash and found a package of butternut squash seeds. I didn't expect much (the seeds were several years old) but true to their nature, they thrived, and I harvest over a dozen butternut squash.
Butternut squash is easy to grow but it does succumb to squash beetles. These insects lay clusters of eggs on the underside of leaves. When the eggs hatch, the nymphs use their piercing mouthparts to suck the sap from the leaves. They can quickly kill plans. You can use commercial insecticide or my preferred method, which is to scrape the eggs off daily before they can hatch.
How to Cook Butternut Squash
Unlike other squash which has a hard rind or shell, butternut squash has a softer outer hull. This makes their storage time shorter than other winter squashes but it also makes them easier to cook.
To cook butternut squash, cut off the stem end and the blossom end. Then, slice the neck off from the bulb at the end. Peel the stem thoroughly with a vegetable peeler or sharp paring knife until you're doing to the orange flesh. Cut into cubes and boil for 6-8 minutes.
The seeds are located inside the bulbous blossom end. I slice it in half and scoop out the seeds and pulp. Then I peel and dice up whatever flesh is left and add it to the pot to boil and cook.
The Secret to Creamy Risotto (without Dairy)
In this recipe, you'll cook the butternut squash first and separately and set it aside while you cook the risotto. Then, add the squash at the end.
To make your risotto extra creamy without any dairy, use the correct rice. Arborio rice, found in most supermarkets and grocery stores, cooks into a soft, creamy risotto.
Another secret to creamy butternut squash risotto is to heat the liquid thoroughly before adding it to the pan. I keep a pot of vegetable stock simmering on the stove and ladle it into the risotto one spoonful at a time. This slow-cooking method enables the rice to achieve its creamy potential without adding dairy.
If you're ready to enjoy this taste sensation, gather the ingredients, and let's get cooking!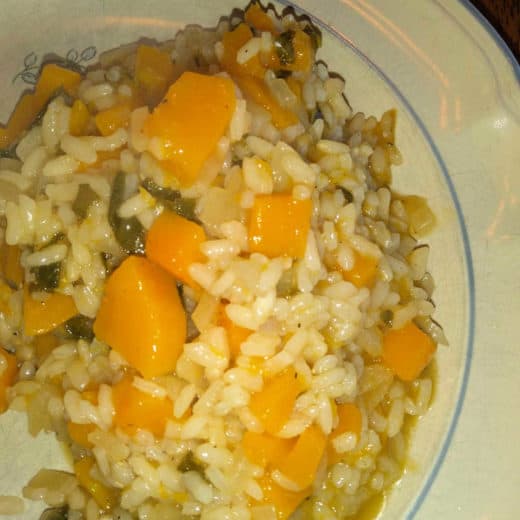 Butternut Squash Risotto with Sage and Caramelized Onions
A creamy, fragrant and vegan dish that's sure to please.
Ingredients
1

large

butternut squash

peeled, cubed, seeds removed

2

tablespoons

extra virgin oil

1

onion

peeled and diced

2

tablespoons

sugar

1/2

cup

diced fresh sage leaves

4

cups

salt-free vegetable broth

1/2

cup

white wine

1

cup

Arborio rice
Instructions
Peel, deseed, and dice the butternut squash. Add it to a pot of boiling water and boil for 6-8 minutes until tender. Drain, and set the squash aside.

In a large pot, bring the vegetable broth to a boil, then lower heat to simmer.

Dice the onion and sage leaves. In a large saucepan, heat the olive oil, then add onion. Cook 1 minute, stirring frequently. Sprinkle onion with sugar and cook 2-3 minutes more until browned. Add sage and cook 1 more minute over medium heat.

Pour a bit more oil into the pan if needed. Push the onion-sage mix to the side and add the rice to the empty side, stirring constantly until browned (about 1 minute).

Now, add the wine to the rice, and stir until it is absorbed.

Gradually, one spoonful or ladle full at a time (about half cup at a time), add the vegetable broth, stirring until each half cup is absorbed by the rice. Once the rice absorbs the liquid, add another 1/2 cup. You should stir it frequently but if you need to step away for a bit you can. Just don't step away too long or the rice can stick.

Continue adding liquid to the rice and onion sage mixture, stirring frequently. Keep the mix over low-medium heat and uncovered. It will take about 30-40 minutes to absorb all of the liquid and cook the rice. If you need more liquid, heat water to boiling in a kettle and add it a little at a time. Taste the rice to make sure it is tender and creamy.

When rice is tender and creamy, stir in the butternut squash you had set aside. Heat on low for 1 minute longer. Add salt and pepper, or just pepper, to taste.

Serve warm as is for a vegan dish or add Parmesan cheese if desired.
Notes
Fresh sage adds wonderful taste to this dish but if you don't have fresh sage, substitute 1 tablespoon of dried sage.