This sweet and light bran muffin recipe offers a classic morning muffin with a twist – it's heart-healthy and cholesterol-free!
The following includes affiliate links. We are a participant in the Amazon Services LLC Associates Program, an affiliate advertising program designed to provide a means for us to earn fees by linking to Amazon.com and affiliated sites. Thank you so much for being a part of Home Garden Joy!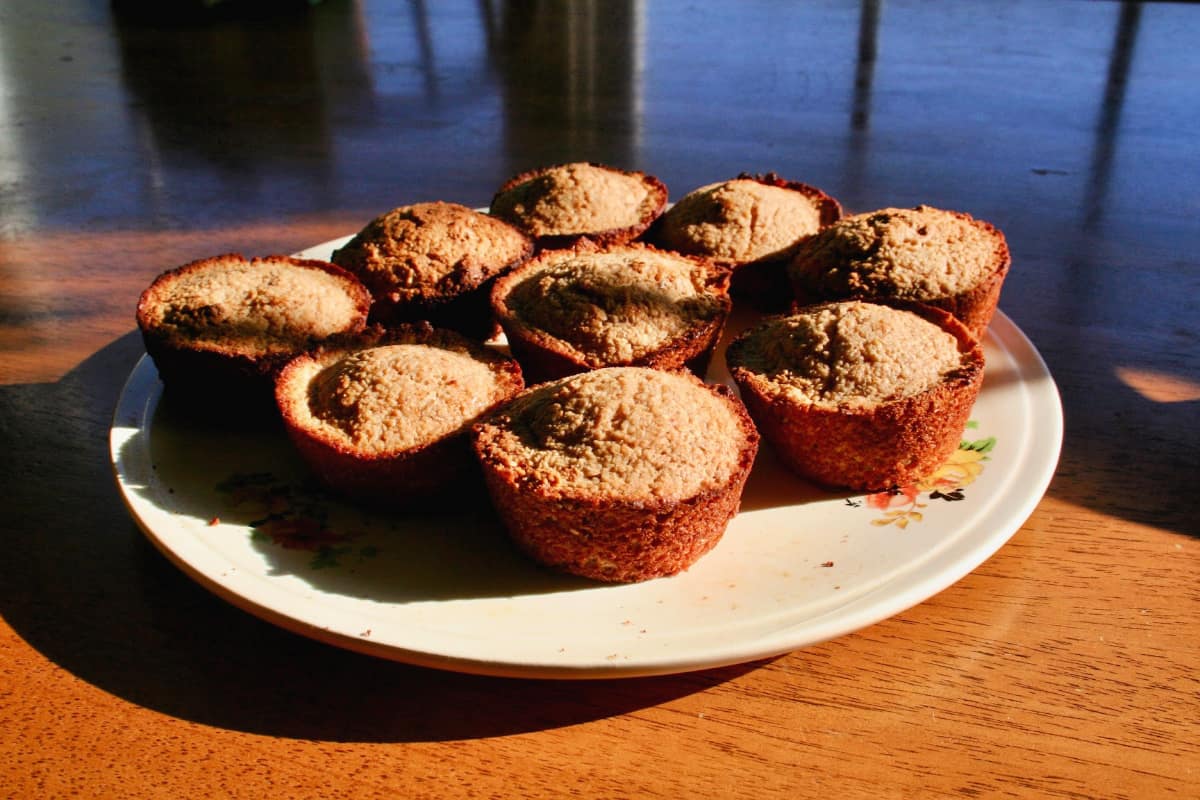 Bran Muffin Recipe: Sweet, Light, Moist, Delicious
I've been searching for a bran muffin recipe that doesn't bake into a brick. The last time I made bran muffins, it was like trying to chew cardboard.
Nobody wants to each cardboard for breakfast.
Enter this sweet, light, and tasty recipe. It's packed with heart-healthy fiber and the egg whites have ZERO cholesterol. The fiber from the bran plus the applesauce also helps reduce cholesterol and boost heart-healthy HDL cholesterol, too.
Applesauce and Brown Sugar Sweeten the Mix
I've found that the combination of homemade applesauce and brown sugar sweeten the muffins just right. I use applesauce canned from apples we grow ourselves, which makes me think that the muffins taste better. Who knows? Whenever I cook with organic apples grown on our farm, I smile. It's part of the whole country living experience that I love.
Baking Tips
Make sure the oven is completely preheated before baking.
Grease the muffin tins with shortening. I use a paper towel to spread the shortening inside the metal muffin tins because I hate getting my fingers greasy.
Mix the dry ingredients in a large bowl.
Mix the wet ingredients completely before pouring them into the dry ingredients.
Separating eggs can be tricky. Use an egg separator (link below) or separate the eggs over a measuring cup in case you break a yolk into the white. What do to with the egg yolk? I cook it up for the dog as a treat. If I'm baking bread, I'll save the yolk to use as an egg wash to make the crust brown and crispy.
Egg Separator
Stainless Steel Egg Yolk Separator, Dishwasher Safe Egg White Separator, Professional Egg Separator Tool 
Amazon Basics Nonstick Carbon Steel Muffin Pan
Set of 2 muffin tins, 12 Cups Each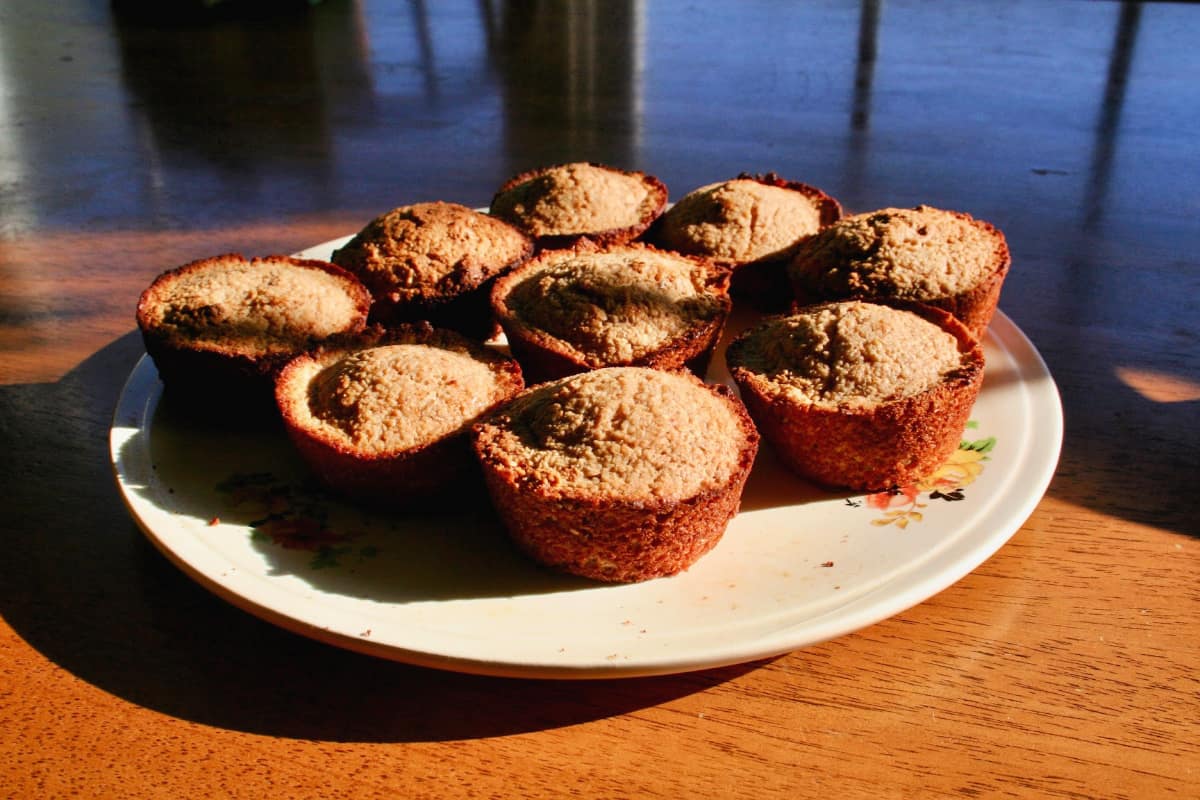 Sweet and Light Bran Muffin Recipe
A heart-healthy, low cholesterol/no cholesterol classic bran muffin recipe packed with fiber and taste. Sweet, moist, and light bran muffin.
Ingredients
2

cups

oat bran

1/2

cup

dark brown sugar

1

tablespoon

Baking Powder

1/2

teaspoon

Salt

1

teaspoon

cinnamon

2

egg

whites only

2

tablespoons

Vegetable Oil

1

cup

milk

1/2

cup

applesauce
Instructions
Preheat the oven to 425 degrees F. Grease muffin tin.

In a large mixing bowl, mix the dry ingredients: oat bran, brown sugar, baking powder, salt, cinnamon.

In a separate bowl, mix the egg whites, applesauce, milk, and vegetable oil.

Mix by hand the wet ingredients into the dry ingredients until it's just moistened.

Spoon the muffin mix into the greased muffin tin. Fill each compartment 2/3 full.

Bake for 15 minutes. Cool 5 minutes, then use a knife to loosen each muffin. Remove and let cool completely on a plate or wire rack.
Notes
You can freeze any extra muffins in a zipped freezer bag for up to 3 months.
You can also add more spices such as ground cloves, ginger, or allspice as desired to increase the flavor and spiciness.
Jeanne Grunert is a certified Virginia Master Gardener and the author of several gardening books. Her garden articles, photographs, and interviews have been featured in The Herb Companion, Virginia Gardener, and Cultivate, the magazine of the National Farm Bureau. She is the founder of The Christian Herbalists group and a popular local lecturer on culinary herbs and herbs for health, raised bed gardening, and horticulture therapy.