This whole-food, plant-based recipe features three cans of simple ingredients available at any grocery store, a few chops of onion, and voila – done! It couldn't be easier!
It tastes delicious on its own or layered over lettuce for a jazzy touch to your favorite salad.
Plant-Based Recipe that Tastes Great
What is a plant-based recipe? It's a recipe that relies upon whole, natural plants as its base.
My family switched to a low salt, whole-food, plant-based diet over a year ago. The changes in our health, wellness, and weight have been extraordinary. Not only have I lost weight, and kept it off, but many food cravings disappeared.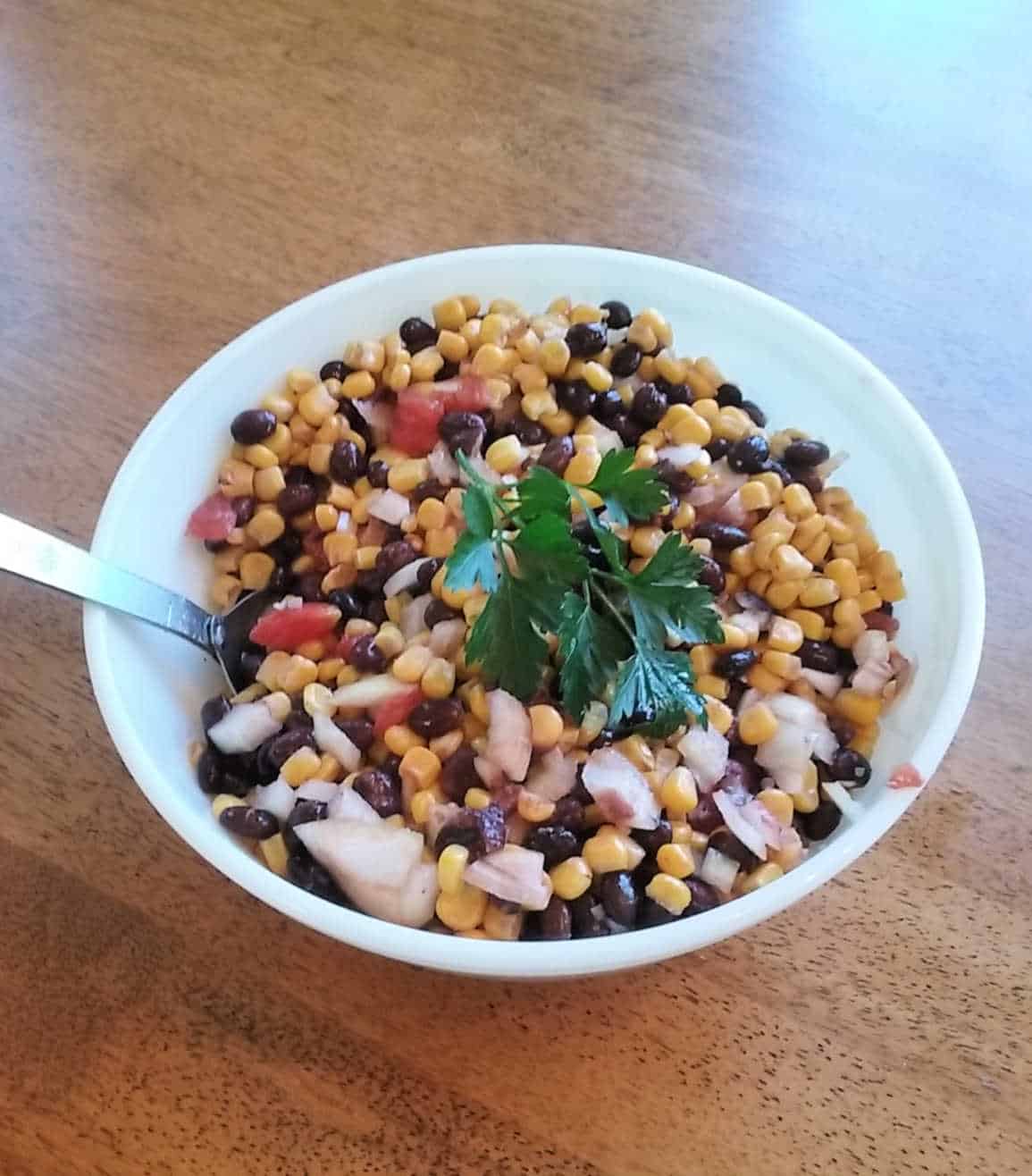 Eat to Live Diet
I follow the Eat to Live Diet as outlined in the book of the same name authored by Joel Fuhrman, M.D. It's not perfect (I still eat a little meat and fish, and a glass of dairy milk or ice cream every now and then) but a big shift in how I eat and think about food.
As you get used to eating plants, packaged food starts to taste fake. I love the Eat to Live lifestyle. It has made an enormous impact on my life.
Use Simple Pantry Ingredients
This recipe uses simple ingredients you can find at any grocery store. The dressing is made from olive oil, white wine vinegar, and lime juice. It can be created in just about 10 minutes and served over rice as a main course, gently heating the salad and omitting the dressing, over lettuce for a lunchtime salad, or as a side dish for a picnic. It's that versatile!
Buy the Books
If you're interested in following the Eat to Live program, I've included a few books that got me started on it, below. A whole-food, plant-based lifestyle is really the best for health. Even if you adjust just a few meals a week to plant-based recipes, you'll experience an improvement.
The following are affiliate links. We are a participant in the Amazon Services LLC Associates Program, an affiliate advertising program designed to provide a means for us to earn fees by linking to Amazon.com and affiliated sites. Thank you so much for being a part of Home Garden Joy!
Eat to Live: The Amazing Nutrient-Rich Program for Fast and Sustained Weight Loss, Revised Edition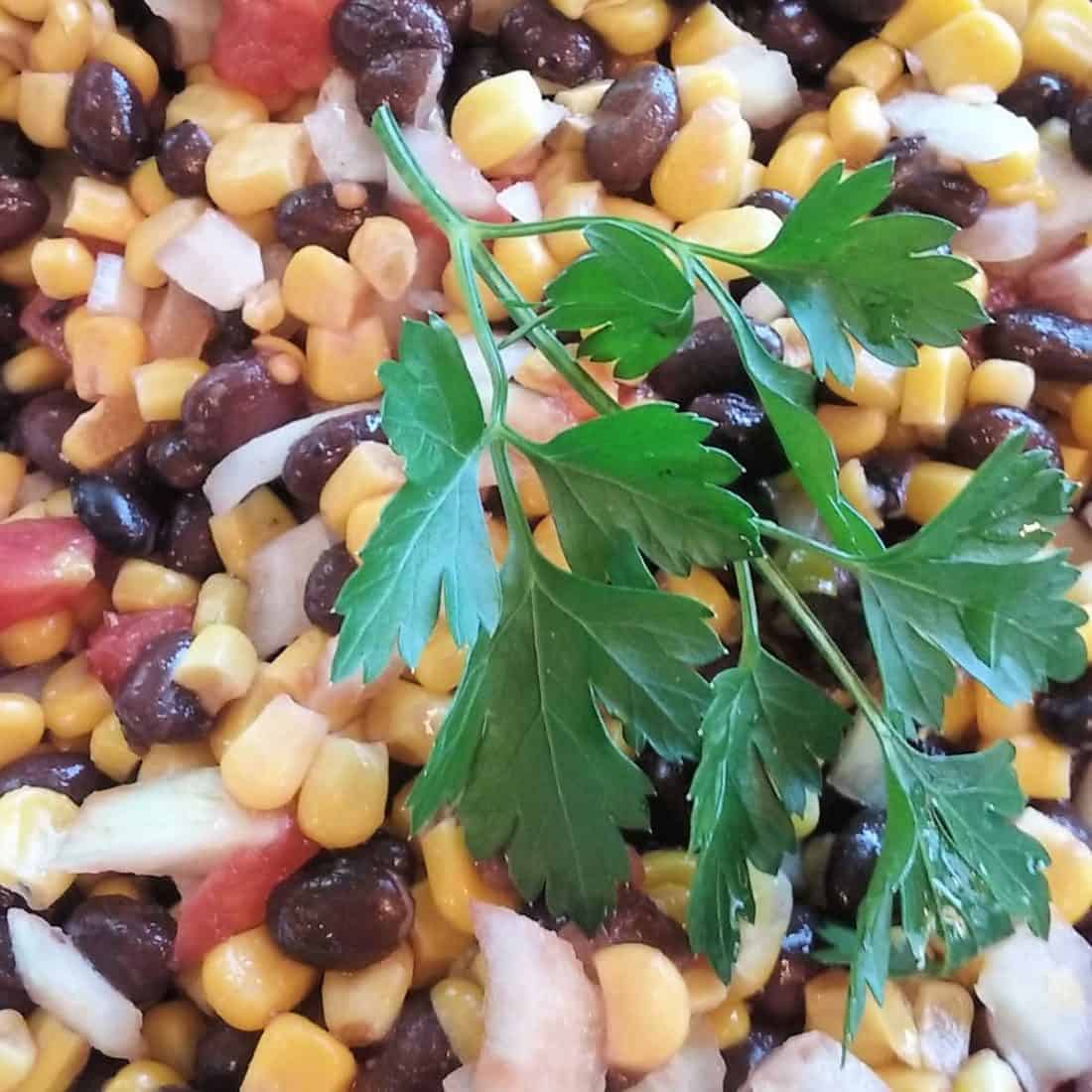 Plant-Based Recipe - South of the Border Salad
This easy to make whole food plant-based recipe uses simple pantry ingredients and can be assembled in just a few minutes. Chill to serve as a side salad or picnic salad, or heat it up (without the dressing) and serve over hot rice for a meal.
Ingredients
South of the Border Salad
1

can

NO SALT black beans

To keep sodium low, I used no salt products.

1

can

NO SALT corn

Or cook a bag of frozen no salt added corn

1

can

NO SALT diced tomatoes

Drain the liquid

1/2

cup

diced onion
Lime Dressing
1

tablespoon

lime juice

1/4

cup

white wine vinegar

1/2

cup

extra virgin olive oil
Instructions
Drain and rinse the black beans and corn. Drain the tomatoes. Toss and mix gently with a spoon.

Dice the onion. Mix with the vegetables. Garnish with diced cilantro or parsley.

Mix the dressing separately, pour over the salad, and toss. If heating the salad to serve over rice, omit the dressing.
Notes
I used no-salt canned goods and the recipe tastes great. Salt is added to canned and frozen vegetables to improve the taste and shelf life. Using no-salt products greatly reduces the overall sodium in the diet. If you do use conventionally canned products with added salt, rinse thoroughly to get as much salt as possible off of them before assembling the salad.
Jeanne Grunert is a certified Virginia Master Gardener and the author of several gardening books. Her garden articles, photographs, and interviews have been featured in The Herb Companion, Virginia Gardener, and Cultivate, the magazine of the National Farm Bureau. She is the founder of The Christian Herbalists group and a popular local lecturer on culinary herbs and herbs for health, raised bed gardening, and horticulture therapy.