This recipe for homemade hummus with herbs not only tastes amazing, it includes three common herbs that boost immunity. It takes just a little time to whip up and you probably already have the herbs that you need growing in your garden. (If not, they're easy to find in the grocery store).
Ready to serve something different at your next party? Serve homemade hummus with herbs for a tasty – and health-supporting – treat!

Homemade Hummus with Herbs for the Immune System
I came up with the recipe for homemade hummus with herbs for the immune system when I was craving hummus during the COVID-19 pandemic. Now, that sounds strange, but hear me out!
How this Homemade Hummus Recipe Came Into Existence
Last year, I made the oregano pesto recipe from Brittany Wood Nickerson's excellent book, Recipes from the Herbalist's Kitchen. I love that book for all the clever ways it infuses herbs into daily meals. If you haven't purchased a copy, I've included a link, above and below, to check into it. It's truly a great book.
Anyway, I love that pesto recipe, and now is the time to make it. I gathered 2 cups of oregano leaves and because the Italian parsley has turned into an enormous bush in the garden, 2 cups of parsley leaves, too.
Then I set up my food processor. I always test it before gathering ingredients because it's quirky. It's moody. My food processor and I do not get along.
This was one of those days. It refused to work. I had my husband re-assemble it…still nothing. It's dead.
Okay, then. 4 cups of herbs are sitting on my kitchen counter. The blender can't handle pulverizing the nuts and seeds I use in my oregano pesto recipe. What to do?
Make homemade herbal hummus – it can be made in the blender!
Homemade Hummus Starts with Super-Soft Chickpeas
Any hummus recipe must start with super-squishy chickpeas. Canned chickpeas are fine but not soft enough.
To soften chickpeas into hummus consistency, boil them with 1 teaspoon of baking soda. Baking soda breaks down pectin, the fibers that hold beans together, making them softer. It also raised the pH of the water which speeds up softening.
My recipe uses dried chickpeas which are economical. My husband knows I love chickpeas and does the grocery shopping during the COVID-19 pandemic so he stocked up on bags of chickpeas for which I am forever grateful.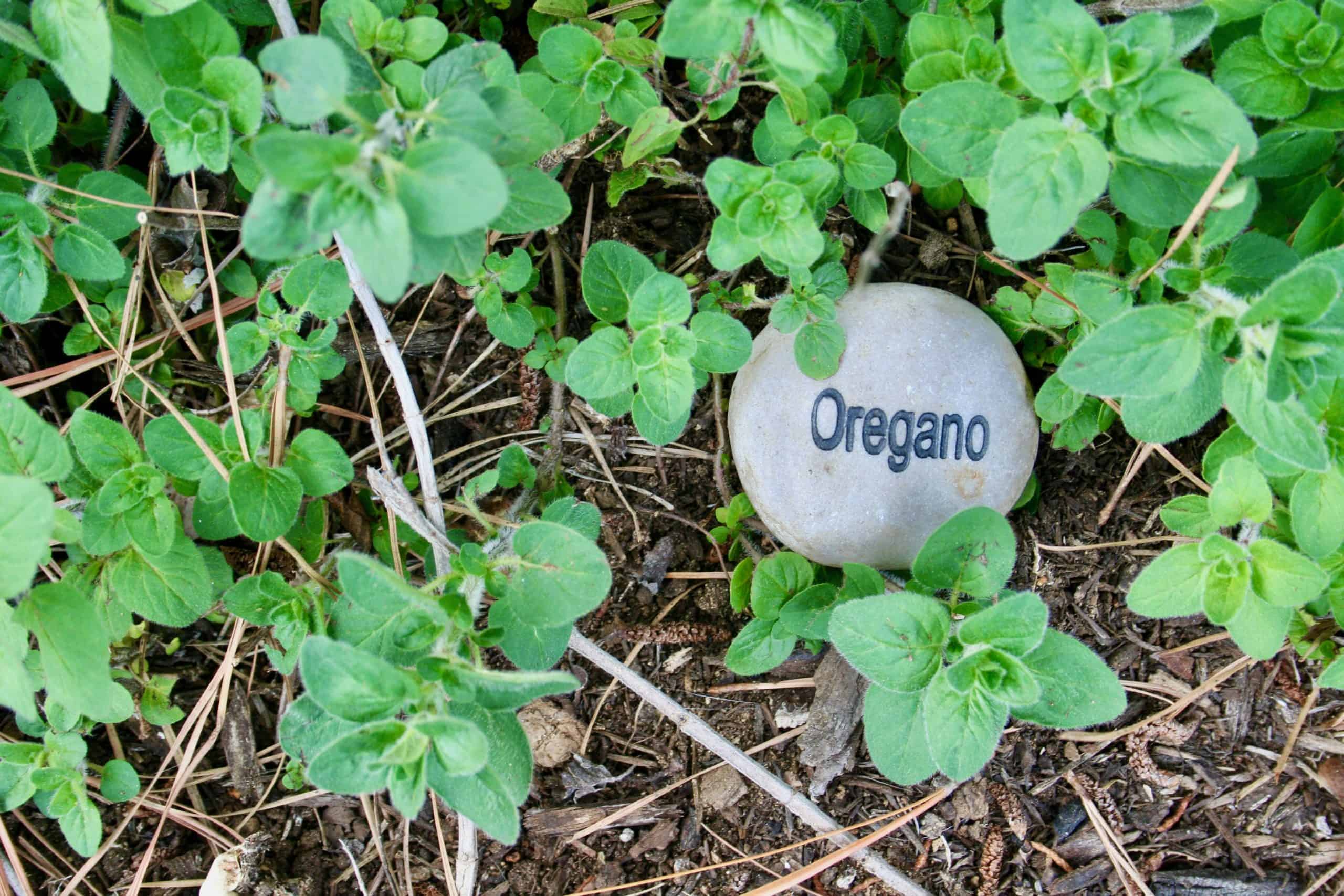 Don't Have Enough Parsley and Oregano? Substitutions
If you don't have enough parsley and oregano in the garden, you can substitute the following for the herbs:
3 cups of baby spinach leaves
2 cups of basil
A mix of more parsley or oregano, whichever you have on hand
You may need to experiment with the taste adding more or less garlic to flavor the final hummus recipe. Oregano and basil both have a strong flavor due to the oils in the herbs' leaves. This flavor enhances the hummus and adds nutrients, too. Spinach leaves a greener color to the hummus but also a milder taste.
Herbs for Immunity
The herbs used in this hummus recipe all boost the immunity and add plentiful antioxidants, vitamins, and minerals.
Oregano is known as a potent infection fighter. Two oils found in oregano vulgaris (common oregano, the kind most of us cook with), thymol and carvacrol, are recognized antibacterial agents. They will even fight staph infections. Phytonutrients found in oregano are thought to boost the immune system. This herb is high in vitamins K and E as well as minerals like calcium and magnesium. Plus, it tastes delicious.
Parsley is probably one of the easiest herbs to grow. People who grow parsley often wonder what to do with it because it is so abundant. Sure, you can garnish your plate to make it look fancy, but parsley is also helpful as well as beautiful. Parsley is rich in vitamins K, A, and C, and a good anti-inflammatory herb.
Garlic is also a superstar in both the kitchen and the herbal medicine chest. It's packed with phytochemicals that combat high cholesterol and high blood pressure. It's also an immune-boosting plant. The Iowa Health Study noted that women who ate raw garlic regularly experienced a significant reduction in various cancers including colon cancer.
Lemon juice, also used in the recipe, contains vitamin C.
Chickpeas do not have specific health properties but the fiber in beans is great for your gut microbiome, fostering the growth of healthy bacteria that can protect against the bad germs.
Olive oil also contains plenty of antioxidants. Always buy extra virgin olive oil and purchase the best quality that you can afford. Don't cut corners when buying olive oil.
Where's the tahini? Tahini, a paste made from sesame seeds, adds texture, taste, and body to the recipe. Adding half a cup to the recipe will thicken it and give it a classic hummus taste.
What to Serve with this Recipe
You can serve pita wedged, chips, or as I did, celery. Vegetable sticks arranged on a platter around the dip would also taste wonderful. Cut up carrot sticks, celery, and include little grape tomatoes for a colorful and healthy snack.
The following are affiliate links. We are a participant in the Amazon Services LLC Associates Program, an affiliate advertising program designed to provide a means for us to earn fees by linking to Amazon.com and affiliated sites. Thank you so much for being a part o Home Garden Joy!
Cuisinart DFP-14BCNY 14-Cup Food Processor, Brushed Stainless Steel – Silver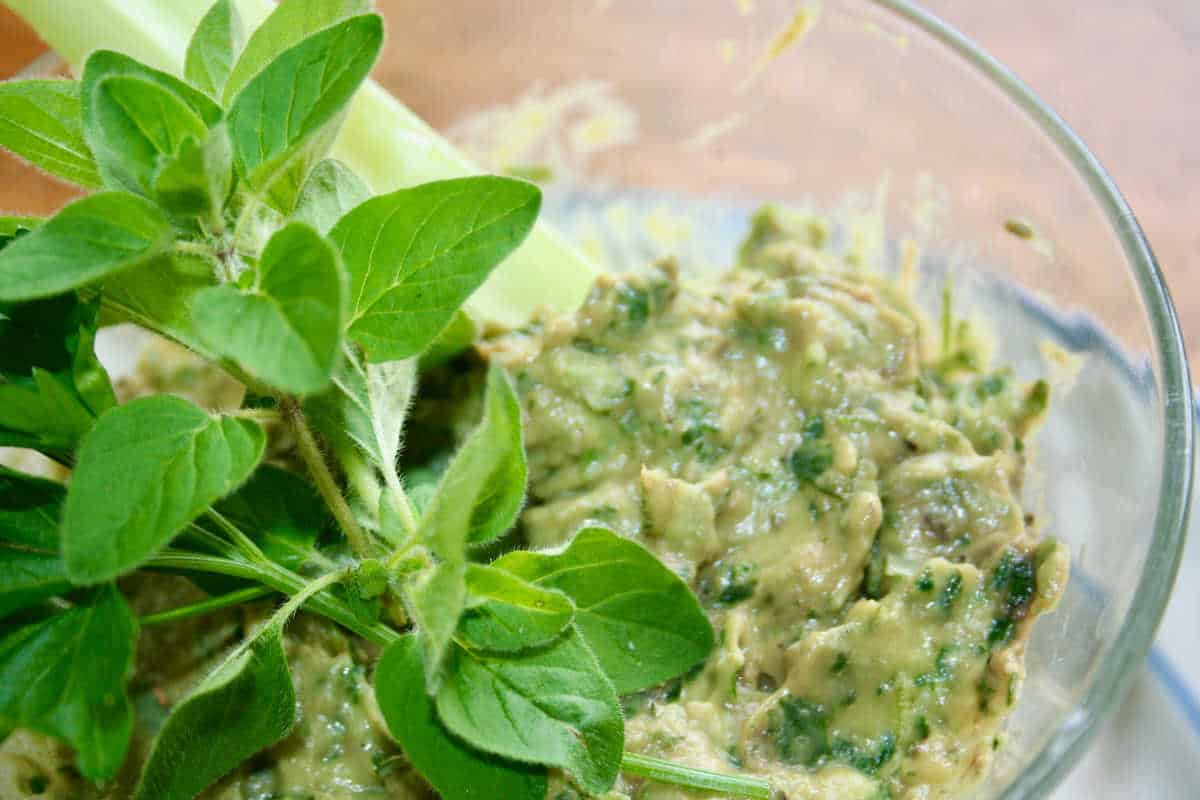 Homemade Hummus with Herbs
This delicious herbal homemade hummus packs plentiful antioxidants, vitamins, and minerals into every spoonful. Eating well has never tasted so good!
Ingredients
1

cup

dried chickpeas

6

cups

water

1

teaspoon

Baking Soda

2

cups

oregano leaves

washed, removed from stems

2

cups

parsley leaves

washed, removed from stems

2

cloves

garlic

1

teaspoon

lemon juice

1

dash

Salt

use herbal salt for added taste

1/2

cup

extra virgin olive oil
Instructions
Wash and rinse the dried chickpeas, removing and discarding any broken ones.

Place chickpeas, water, and baking soda in a large stockpot with a lid. Bring to a boil. Reduce heat to simmer. Leave the lid slightly askew or the water boils over.

Boil for 30 minutes, carefully tasting and testing the consistency of the chickpeas. They should be mushy.

When the chickpeas are nice and smushy, drain them in a colander under cool running water.

Add chickpeas, herbs, and garlic to a food processor. You can also use a blender as I did to make the recipe shown. Process until it is smooth.

Drizzle in the lemon juice and olive oil, processing until smooth. Add salt to taste.

Serve on crackers or with vegetable sticks. Refrigerate the unused portion.
Jeanne Grunert is a certified Virginia Master Gardener and the author of several gardening books. Her garden articles, photographs, and interviews have been featured in The Herb Companion, Virginia Gardener, and Cultivate, the magazine of the National Farm Bureau. She is the founder of The Christian Herbalists group and a popular local lecturer on culinary herbs and herbs for health, raised bed gardening, and horticulture therapy.