Making homemade tomato sauce isn't difficult but it is labor intensive. Having the right equipment and tomatoes makes the task easier, but set aside an afternoon, find yourself 15-30 pounds of fresh tomatoes, and channel your inner Italian grandma. We're making homemade tomato sauce – no salt, healthy, and a recipe that tastes like summer in a jar!
How Do You Make Homemade Tomato Sauce?
Why make homemade tomato sauce when you can run to the store for a jar of pre-made commercial sauce?
One word: salt.
A typical one-cup serving of commercial tomato sauce packs a whopping 500+ milligrams of sodium per serving. If you're on a low-salt diet (as we are), that's 1/3 of your daily sodium…in the sauce alone. That's not counting the pasta. And of course, it doesn't count what you ate for breakfast or lunch, either!
We've purchased store brand no-salt tomato sauce and were disappointed in the taste. It tastes flat and the texture isn't thick enough. We end up adding no-salt diced tomatoes and tomato puree to make a proximity of the sauce we'd like.
Our solution: make your own homemade tomato sauce.
Homemade Tomato Sauce Starts with the Right Tomatoes
I've seen recipes online that call for typical slicing tomatoes such as Big Boy, Early Girl, Better Boy and the like. While you can certainly make a good sauce from these tomatoes, the best tomatoes I have found for making homemade marina sauce or pasta sauce are Roma (Roman) tomatoes.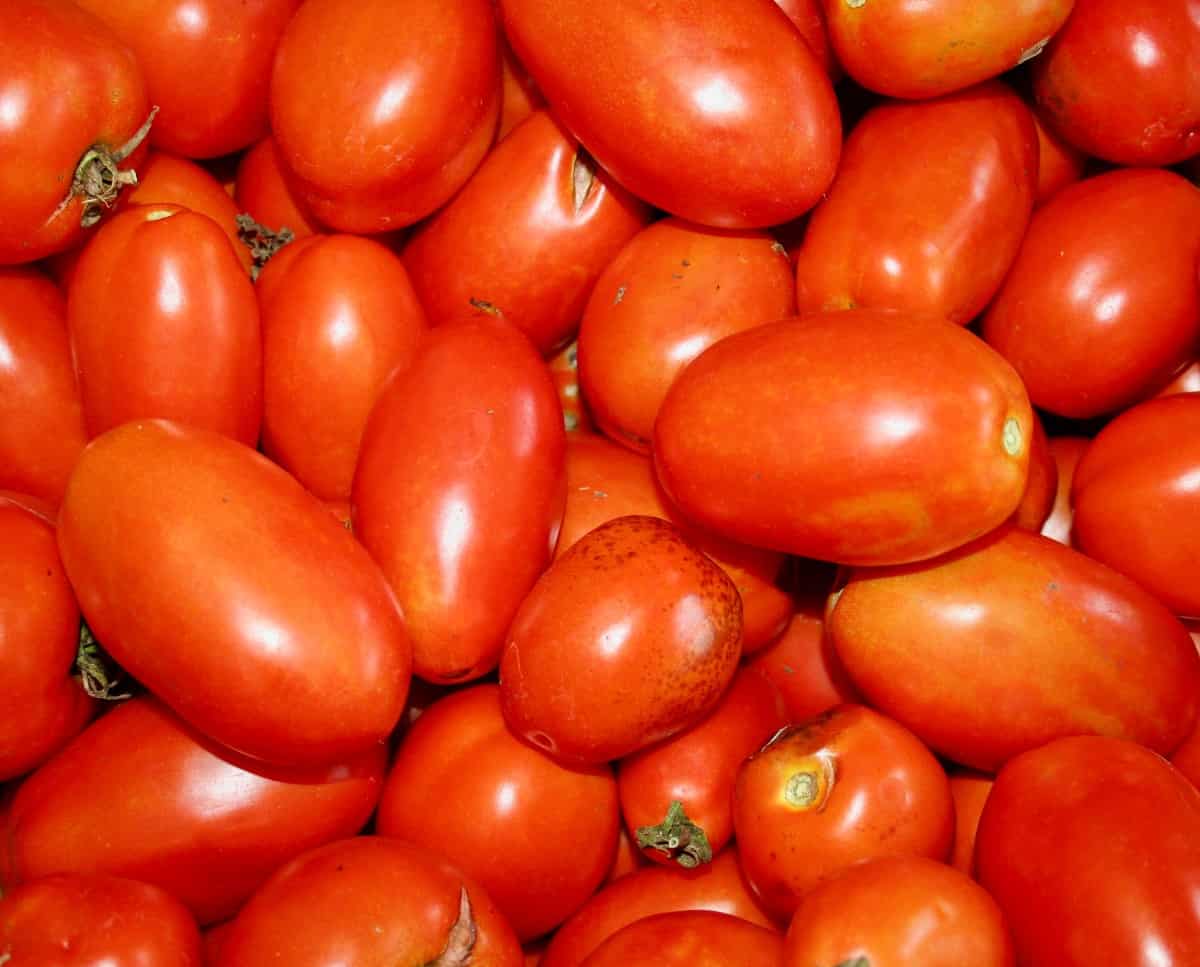 What Are Roma Tomatoes?
Roma tomatoes go by many names: Roman tomatoes, Italian tomatoes, plum tomatoes. These long, cylindrical tomatoes make a sweeter, thicker sauce than Big Boy, Early Girl and similar tomatoes because they contain a lower water content.
Plum tomatoes such as Roma tomatoes have a thick, meaty flesh that cooks down faster, makes a thicker sauce, and offers a rich tomato taste.
I know they can be difficult to find at the supermarket in quantities needed to make sauce. Your best options are to find a local grower or to grow your own. Growing plum tomatoes or Roma tomatoes isn't difficult. Growing requirements are the same as for growing any type of tomato. You'll need full sunlight, plenty of water, rich well-drained soil, and something to stake or support the tomatoes.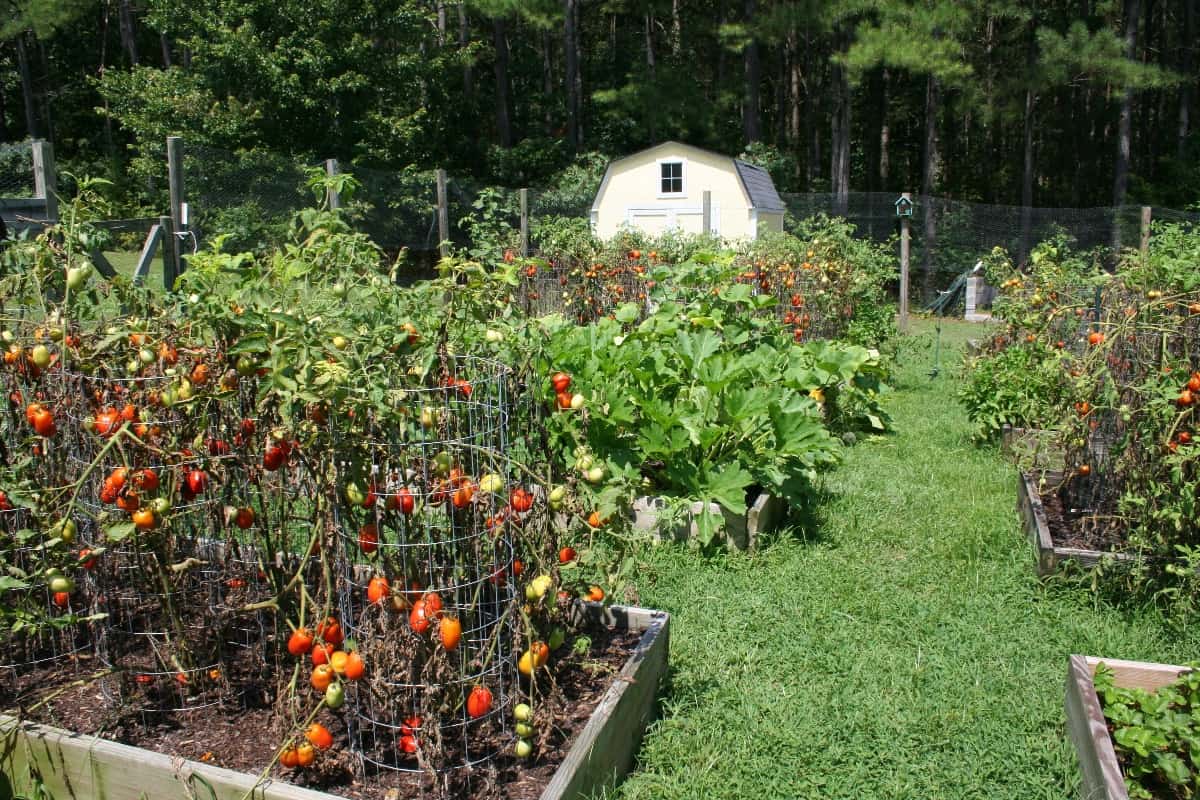 How Many Tomatoes Do You Need for Homemade Pasta Sauce?
You'll need approximately 15 pounds to make and can 8 pint jars of sauce. We measure by the basket. I have four bushel baskets from Tractor Supply that I fill with our Romas. Two baskets equals 18 jars of sauce.
What Equipment Is Needed?
This is where I differ from many other authors online who claim you don't need special equipment. I don't like seeds in my tomato sauce and many people don't like them, either. Those who say you don't need equipment end up with runnier, seed-filled sauce.
Yuck.
I prefer a thick, rich, even puree. The way to make such a sauce is to use the FreshTech Machine or a Victoria sauce maker.
Disclosure time: I received my Ball Fresh Tech Sauce Maker several years ago as a gift from the Ball Canning Company who asked me to review it. I've used it ever since and absolutely LOVE it. It makes excellent tomato sauce and apple sauce. It saves me considerable time, works reliably, and is easy to assemble and clean up when you get the hang of it. I highly recommend it.
The Ball machine is now called the Jarden FreshTech. Same machine, different name.
Second disclosure time: The following contains affiliate links. We are a participant in the Amazon Services LLC Associates Program, an affiliate advertising program designed to provide a means for us to earn fees by linking to Amazon.com and affiliated sites. Thanks so much for being a part of Home Garden Joy!
The FreshTech Sauce Maker
Jarden 1440035018 Sauce Maker, Black
Another option for fast sauce making is the Victorio-type processor and strainer. Victorio strainers operate along the same principal as the sauce maker, above, but have an optional hand-crank and a funnel instead of a hopper. You put the softened food, such as tomatoes or apples, into the hopper, crank it, run the food through the screen, and the output is the proper consistency and strained of seeds.
This one has an optional motor unit, too, as well as the hand-crank.
Model 250 Food Strainer and Sauce Maker, Electric Motor, and Accessories 4-Pack
Model 250 Food Strainer and Sauce Maker, Electric Motor, and Accessories 4-Pack
You will also need a water bath canner. There are two types of canning equipment: a water bath canner and a pressure canner. Foods like tomato sauce that include the addition of lemon juice, vinegar, salt, or sugar can be canned in the hot water bath canner. Other foods require a pressure canner.
For future canning projects, refer to a good canning book such as the Ball Book of Home Preserving. It's my go-to reference for canning recipes and instructions.
The old-fashioned granite ware pots are tried and true. My own pot is over 70+ years old, inherited from my husband's great-grandparents, and it's still going strong!
Granite Ware Steel/Porcelain Water-Bath Canner with Rack, 21.5-Quart, Black
And of course, you will need canning jars. Any brand works well, but be sure they are clean and you have brand-new self-sealing lids. The lids must be new; old lids won't seal. The seal, and the canning process itself, are what kills bacteria and prevents bacteria from growing.
Ball Pint Jar, Regular Mouth, Set of 12, (16 oz)
You will also need one or more large pots, a strainer, a ladle, a sharp knife, a cutting board, and a bucket or container for tomato pulp and scraps.
Ready to get cooking? Let's start!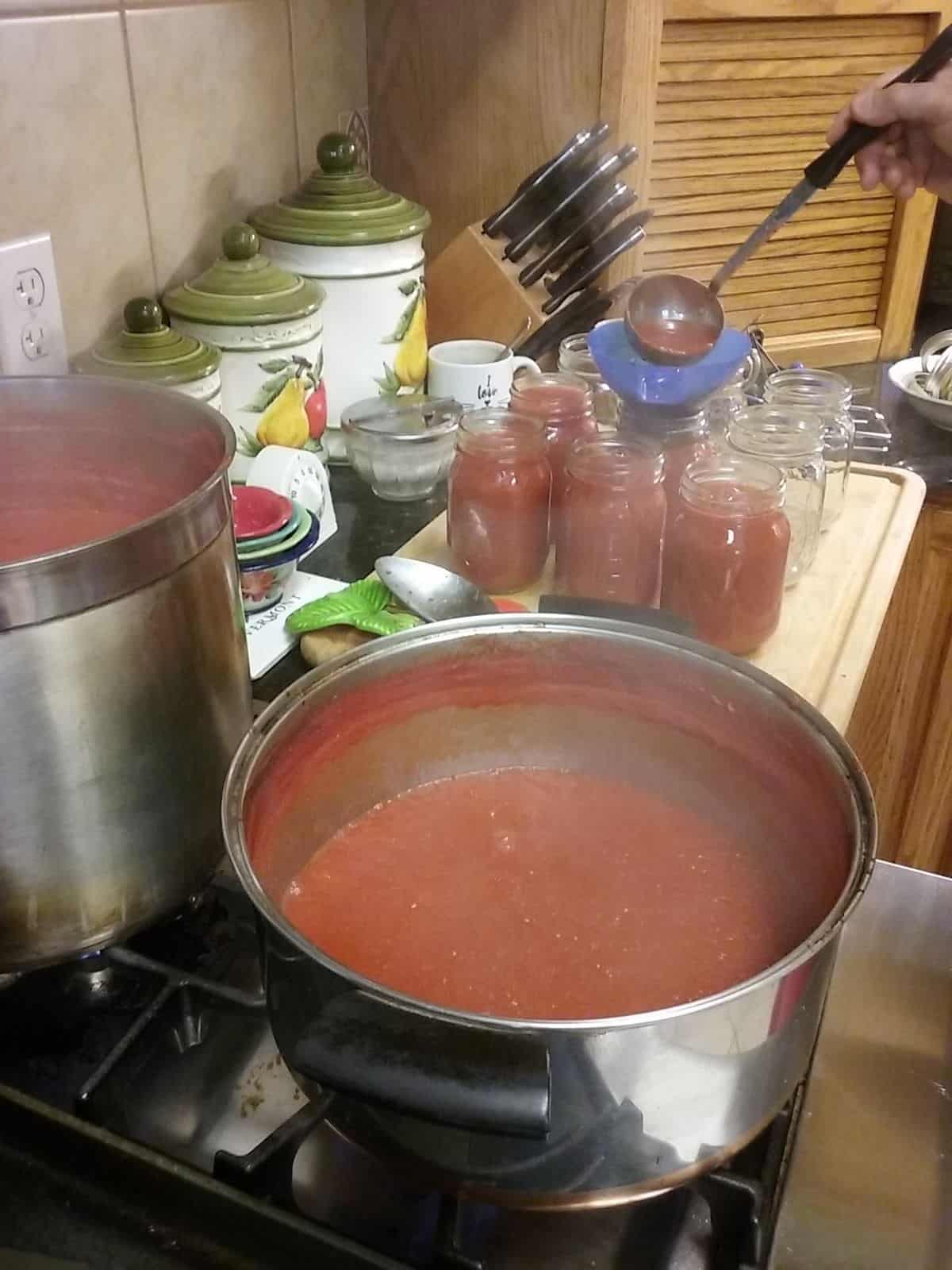 Instructions to Make Homemade Tomato Sauce
Start with clean, unblemished tomatoes. Wash them in cold water and set them in a colander to drain.
Cut off the stem end. Slice down the center. Remove the core. If the tomatoes are large, slice them into quarters.
Place sliced tomatoes in to a stock pot  to a depth of about 2-3 inches. Don't fill it any higher or the tomatoes will be hard to cook.
Soften the tomatoes on medium heat on the stovetop, stirring frequently to prevent scorching and sticking. It takes about 10 minutes to soften Roma tomatoes.
Once the tomatoes are soft, remove from the stovetop and pour them through the strainer. Set aside the tomato juice. You can chill it and drink it.
Add the heated, softened tomatoes into the hopper of the FreshTech or Victoria strainer and run through the fine mesh screen.
Pour the sauce from the bowl of the FreshTech into another clean pot. When you've run several batches, set the pot onto the stove on medium-high heat. Heat to boiling, then reduce heat.
Keep adding batches of puree to the pot. 15 pounds of tomatoes generally makes 8 pints of sauce, so gauge how many tomatoes to cut, heat, and puree before starting your recipe.
Simmer the homemade tomato sauce on the stovetop until it is reduced and thick. It can be as thick as you like or perhaps as thin as a homemade marinara sauce. When it reaches the desired consistently, it's time to warm the jars and lids for canning. It takes 60-90 minutes to reduce most sauces but the time varies according to the type of tomatoes you use and how watery they are when you process them.
Add water to the canning pot – enough water so that it will cover the jars by about one inch when they are immersed in the pot.
Place your water bath canner on the stovetop and turn on the heat under the pot.
Clean the jars and remove the rings and lids. Wash rings and set aside. Heat the lids (but do not boil them).
Place the jars inside the warming water in the canning pot until they are hot. Use tongs or canning tongs to remove, pour out the water, and place aside to fill.
IMPORTANT: Add into each pint jar 1 tablespoon of lemon juice.
Ladle sauce into the jars leaving 1/2 inch of headspace.
When all the jars are full, clean the rims with a paper towel. Place the lid and the screw band onto the jars finger-tight.
Using tongs, place jars into the canner. Make sure you have enough water to cover them. The water should be about one inch higher than the top of the jars.
Cover the pot. Heat until steam starts coming out from under the lid. Then, reduce heat and process pint jars for 35 minutes.
At the end of 35 minutes, turn off the heat and uncover the pot. Wait 5 more minutes, then using tongs or canning tongs, remove the jars and place onto a head-proof surface. Make sure that all jars seal before labeling them with the date and contents. Then, place in the pantry and enjoy for up to 18 months after canning date.
Notice something? No salt, no sugar, no oil…just plenty of delicious tomato taste in each jar. We prefer to add seasonings such as basil, garlic, and oregano when heating up the sauce. This way, we can adjust the taste of the sauce to suit the recipe.
This is a simple, easy homemade tomato sauce recipe. For more details on similar recipes and canning techniques, please refer to a good source like the aforementioned Ball Complete Book of Home Preserving.
First Published: August 2020 Last Updated: April 14, 2021
Jeanne Grunert is a certified Virginia Master Gardener and the author of several gardening books. Her garden articles, photographs, and interviews have been featured in The Herb Companion, Virginia Gardener, and Cultivate, the magazine of the National Farm Bureau. She is the founder of The Christian Herbalists group and a popular local lecturer on culinary herbs and herbs for health, raised bed gardening, and horticulture therapy.