This recipe for walnut applesauce bread bursts with fall flavor!
It's apple season here at Seven Oaks Farm and I've been making and canning applesauce each weekend. But I always have a little too much for the canning jars, and needed to use up the leftovers.
I found this wonderful recipe, adapted it, and have been making, freezing, and giving away walnut applesauce bread to friends. I hope you enjoy it as much as I do!
If you don't have applesauce handy, you can use canned apples, or cook fresh apples and smash them with a potato masher to create homemade applesauce.

Walnut Applesauce Bread for Crisp Fall Mornings
Nothing says fall to me like fresh apples, and this walnut applesauce bread recipe has all the tastes of a crisp autumn day rolled into one tasty, easy to make recipe.
Fresh Applesauce Is the Key
Fresh applesauce is the key to this recipe's amazing flavor. If you've never made fresh applesauce, don't fret — it's easy!
To make fresh applesauce:
Peel and core 4-6 fresh apples. You can use any kind you have on hand. I grow Winesap, Red Delicious, Macintosh and Jonathan apples here on my farm in Virginia and my applesauce is mostly made from Winesap apples.
Place the apple slices in a pot on the stove with a little bit of water and heat until boiling. Cook on high, stirring frequently, for about 10 minutes or until the apples are soft.
Use a potato masher and mash the apples for a chunky sauce. You can use this in the walnut applesauce bread recipe. For a smoother sauce, run it through a food mill, FreshTech machine, or keep smashing it with the potato masher until smooth.
You can add sugar to taste. Lemon juice prevents browning. Add 1/2 teaspoon for this amount of apples.
What if you don't want to use fresh applesauce or you don't have time to make it? Open a jar. Yes, you can. It's fine.
Ready to get cooking? Let's make some fall quick bread!
Save the Walnut Shells to Make Simple Toys
See my article on walnut shell toys and make simple country crafts with walnut shells.
More Apple Recipes
Looking for more apple recipes?
More Quick Bread Recipes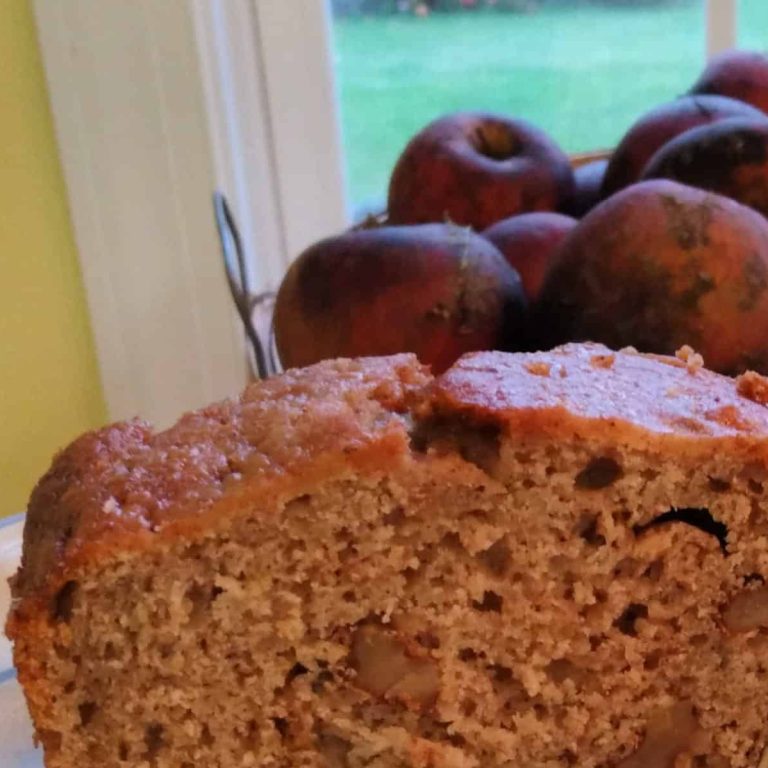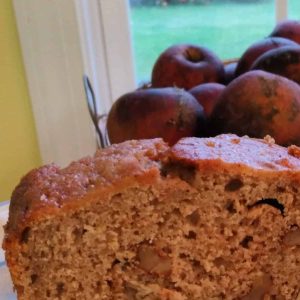 Walnut Applesauce Bread
A rich, spicy apple-infused quick bread that tastes like a crisp fall morning. Eat it for breakfast or dessert. Wrap it in plastic and store for up to three months in the freezer, defrosting to enjoy it as needed.
Ingredients
1/2

cup

Crisco shortening

Use the solid kind (in a can) not liquid

3/4

cup

Sugar

2

large

Eggs

1

teaspoon

Vanilla Extract

2

cups

All Purpose White Flour

1

teaspoon

Salt

1

teaspoon

Baking Powder

1

teaspoon

Baking Soda

1 1/2

teaspoons

cinnamon

1/4

teaspoon

nutmeg

1

cup

applesauce

Chunky or smooth is fine, but chunky gives a better texture

3/4

cup

Chopped Walnuts
Instructions
Preheat the over to 350 degrees F. Grease a loaf pan.

In a large mixing bowl, cream together shortening and sugar. Add vanilla extra and eggs. Beat until creamy and smooth.

In a separate bowl, mix flour, baking powder, baking soda, cinnamon, salt, and nutmeg. Remove liquid ingredients from mixer and stir in dry ingredients into the wet ingredients. Hand mix until blended.

Add walnuts and stir. Add the applesauce and stir well.

Spread batter into greased loaf pan and bake for 50 minutes. Insert a toothpick into the center to check for doneness at 50 minutes. If the toothpick comes out clean, the bread is done. If it is sticky, bake for another 5 minutes.

Remove bread from the oven and cool for 5 minutes. Use a butter knife insert around the rim to loosen the bread. Be careful — it's hot. Invert and place onto a place or rack to finish cooling. Serve with honey, butter, or more fresh applesauce.
Jeanne Grunert is a certified Virginia Master Gardener and the author of several gardening books. Her garden articles, photographs, and interviews have been featured in The Herb Companion, Virginia Gardener, and Cultivate, the magazine of the National Farm Bureau. She is the founder of The Christian Herbalists group and a popular local lecturer on culinary herbs and herbs for health, raised bed gardening, and horticulture therapy.