This recipe for tomato salad uses heirloom tomatoes and fresh herbs from the garden to create a delicious summer treat.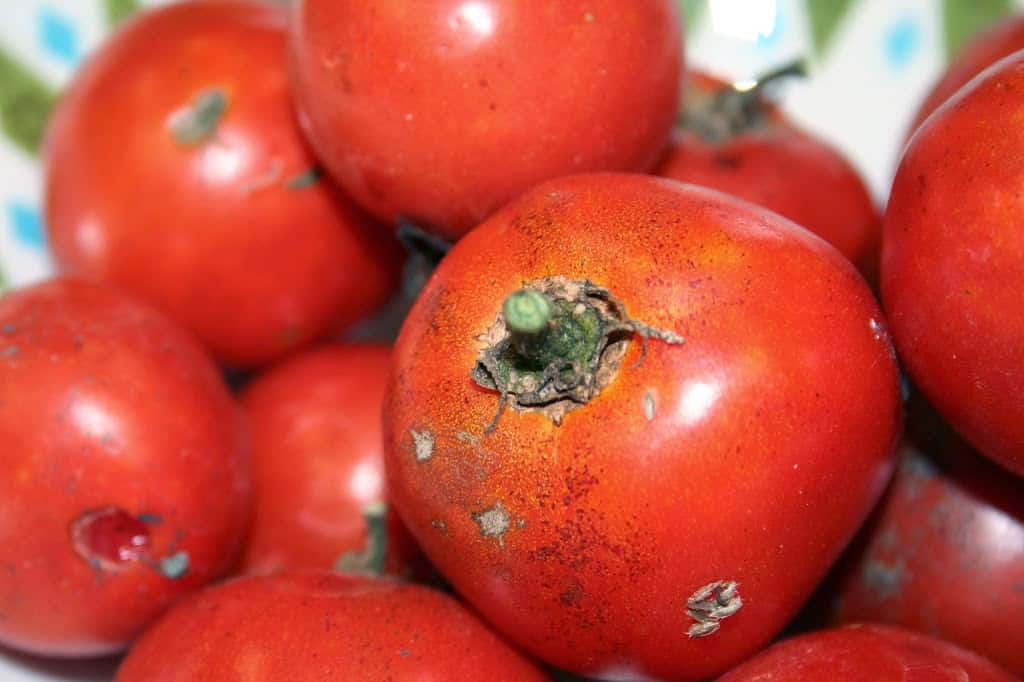 Tomatoes from last summer's garden.
Heirloom tomatoes can also be used in a delightful Caprese Salad. In honor of Fresh Food Wednesday AND the A to Z Blogging Challenge…HEIRLOOM (for "H") Caprese salad!
Ingredients
2 to 4 Heirloom tomatoes of your choice. I love Black Crimson. A fun way to make a pretty platter is to use one Black Crimson and one Heirloom Pineapple, a yellow tomato with red stripes, and alternate the colors.
Fresh mozzarella. If you can't find or afford fresh, use the best quality store-bought brand you can find.
Extra virgin olive oil
Balsamic vinegar
Fresh basil
Coarse Salt and Pepper (to taste)
Rinse the tomatoes and slice off both the stem and blossom ends. Slice tomatoes thinly. Slice mozzarella thinly. Remove basil leaves from stems. Arrange the slices of tomato alternating with mozzarella and basil on the platter. Drizzle with balsamic vinegar and olive oil. Have each person salt and pepper it to taste, after taking their portion – salt on tomatoes makes them runny as it pushes water from the cells.
Enjoy!

I could live on this salad throughout the summer…and sometimes, I do!
Jeanne Grunert is a certified Virginia Master Gardener and the author of several gardening books. Her garden articles, photographs, and interviews have been featured in The Herb Companion, Virginia Gardener, and Cultivate, the magazine of the National Farm Bureau. She is the founder of The Christian Herbalists group and a popular local lecturer on culinary herbs and herbs for health, raised bed gardening, and horticulture therapy.