Even just writing this recipe for sweet potato fries is making me crave them. I am new to the world of sweet potato French fries.
I first enjoyed them at a restaurant here in Farmville when I went there with my friend, Annette, for lunch. They were so yummy I ordered them at the Fishin' Pig, an eatery just outside of town, when I went out for dinner with my husband around Christmas time.
Now it's February and I have a basket of garden-grown sweet potatoes in the pantry. I'm sick of baking them, baking them in a casserole, and making pies and soup out of them (although the soup was really good). I decided to try my own hand at making a sweet potato fries recipe.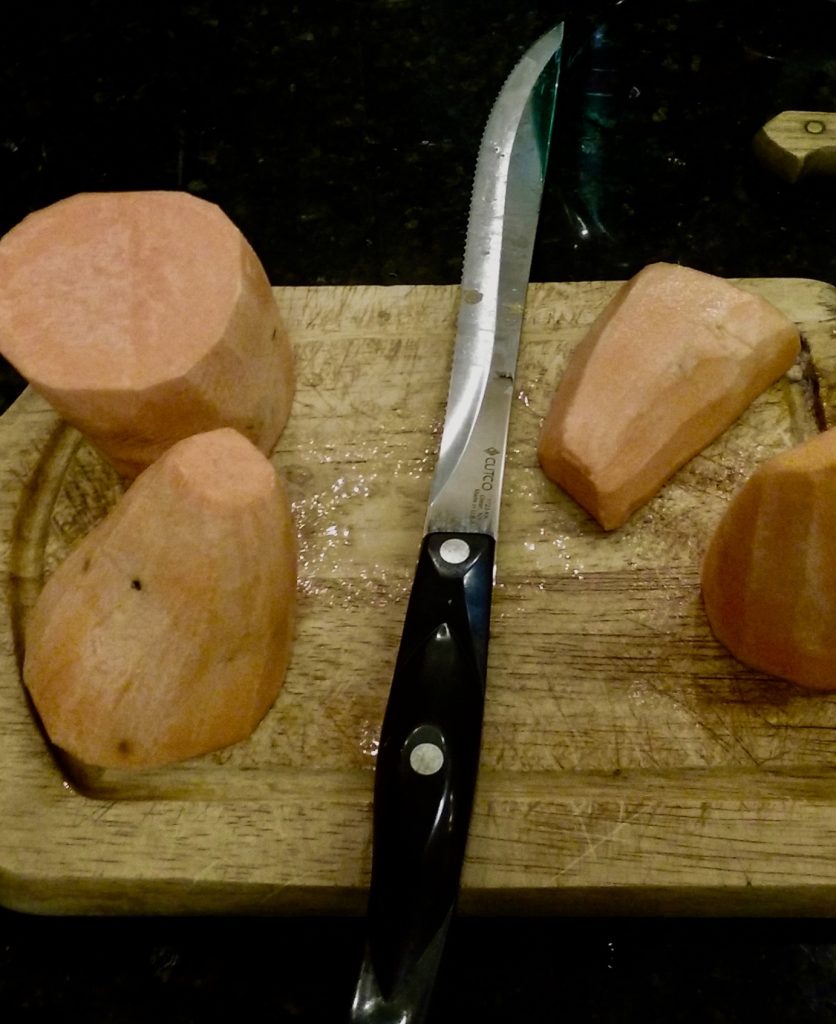 Sweet Potato Fries Recipe
I don't own a deep fryer and I really don't enjoy deep-fried foods. I also find that stovetop frying is messy, and I end up spending twice as long cleaning the kitchen as I do cooking or enjoying my food. I looked for an oven-frying recipe so that I wouldn't have to deal with the oil spatters.
This recipe resulted in tasty fries in just about half an hour of cooking time. My first attempt resulted in soggy fries, but the smaller fries crisped nicely, and I think if I cut the sweet potatoes into thinner shoe-string style potatoes they would have been just right.
To make this recipe, you'll need one large sweet potato for two servings. Parchment paper is a "must" mostly to absorb the oil and prevent the fries from burning. You can find baking parchment in any grocery store near the baking aisle. Sometimes it is located near the aluminum foil and plastic wrap.
Ready to get cooking?
Ingredients
1 large sweet potato, peeled and cut into 1/4 or smaller strips
1 tablespoon olive oil
heavy baking sheet covered with parchment paper
Seasoning Mix
1/4 teaspoon chive salt mix
1/4 teaspoon garlic salt
Dash of paprika and pepper
Preheat the oven to 450 degree Fs. Make sure the oven is HOT. Peel and slice the sweet potatoes and place the strips in a bowl. Drizzle with olive oil and toss with a big spoon until all of the strips are coated with oil.
Next, mix the seasonings together. I used a small Pyrex glass bowl for this but a measuring cup would do the trick. As you stir the oil-coated sweet potatoes, drizzle the seasoning mix over them until they are coated with the mixture.
Place the seasoned strips on the parchment-paper covered baking sheet. Bake for 15 minutes then use a spatula to turn the fries over. Bake for another 10-15 minutes.  Remove from the oven and let cool for 5 minutes before serving. I poured them onto a paper towel to blot up the excess oil before plating them for dinner.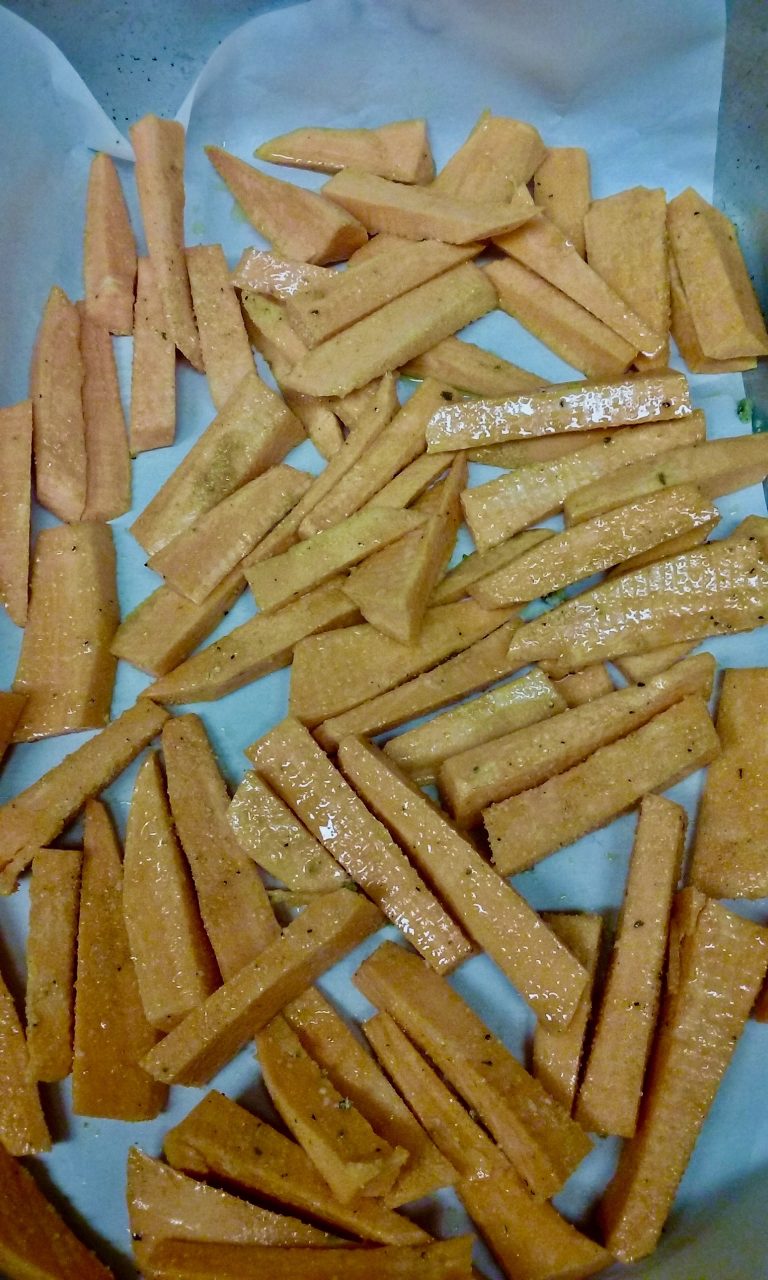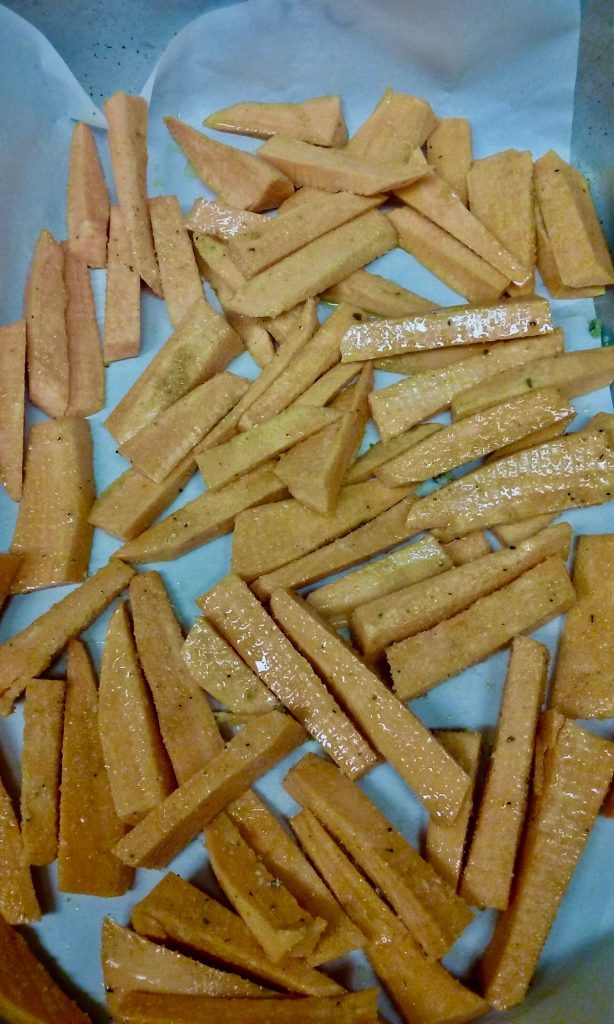 What Is Chive Salt?
Chive salt is a culinary herbal salt made from fresh chives and kosher salt. I made herbal salt in a coffee grinder in the fall. You grind the herbs and salt together then pour it onto a baking sheet in a warm (150 degree or less) oven to dry and crisp the herbs. Once dry, the salt is poured into salt shakers and enjoyed as a seasoning.
I made chive salt and use that for this recipe, but any other spicy herbal salt will do: basil, oregano, parsley.
I did not make any kind of dipping sauce with this recipe. It was too yummy to dip!
I hope you enjoyed this #foodiefriday recipe. Happy gardening and keep growing (and cooking with those delicious garden fruits, vegetables and herbs!).
SaveSave
Jeanne Grunert is a certified Virginia Master Gardener and the author of several gardening books. Her garden articles, photographs, and interviews have been featured in The Herb Companion, Virginia Gardener, and Cultivate, the magazine of the National Farm Bureau. She is the founder of The Christian Herbalists group and a popular local lecturer on culinary herbs and herbs for health, raised bed gardening, and horticulture therapy.