These 3 simple garden design ideas offer easy and pretty ideas anyone can do! Each garden design uses tried and true garden design ideas for any size space.

3 Simple Garden Design Ideas
Homeowners without a lot of time to spend in the garden often look for simple garden designs that look pretty but don't take up the entire weekend to maintain. Although I love to garden and I have a lot of room to play with, I understand where they are coming from – I have gardened in apartments and a small urban lot, too.
I've put together these 3 simple garden designs and design ideas based on my own experience gardening in small spaces. Each offers a different look for your garden. For those with modern architecture, evergreens and stone mulch may be perfect. For those with a classic Colonial or Cape Cod, the color combinations among the simple garden designs may be just right.
1. Monochromatic Colors, Changing Shapes and Forms

This garden, above, uses red as the focal point – hot reds in both foliage (coleus and begonia) and in flowers. Yes, this is my garden planted just outside my kitchen window. Red is my favorite color and I love begonias, impatiens, and celosia, yet this is the only spot in my yard where I can plant them. Because I have a hose handy to water them and they are tucked under the kitchen window, they receive plenty of water and deer do not come near.
I used red as the dominant color palette and use it to draw the eye into the garden. Green becomes the neutral color and the backdrop for the hot red – the cool green shades tone down the jolt of red. Hosta, ground cover phlox, and the last of the columbine leaves provide the soothing green to offset the red.
Using Plant Shape for Interest
When you're choosing plants for your garden design, consider both the shape of the plant as well as the color. The celosia with its spires of flame-like flowers march along the back of the garden against the salvia. Begonia offers a soft, rounded form. The juxtaposition of energetic spires and softness in the circles calms it down and brings it together very similarly to the hot red and cool green shades.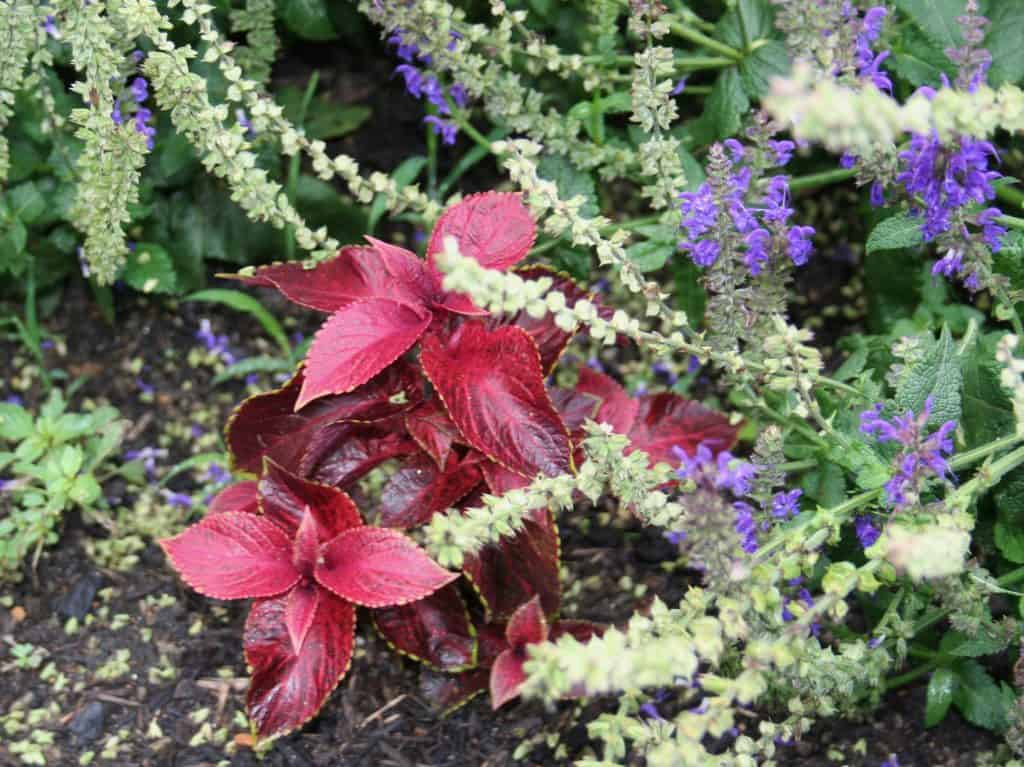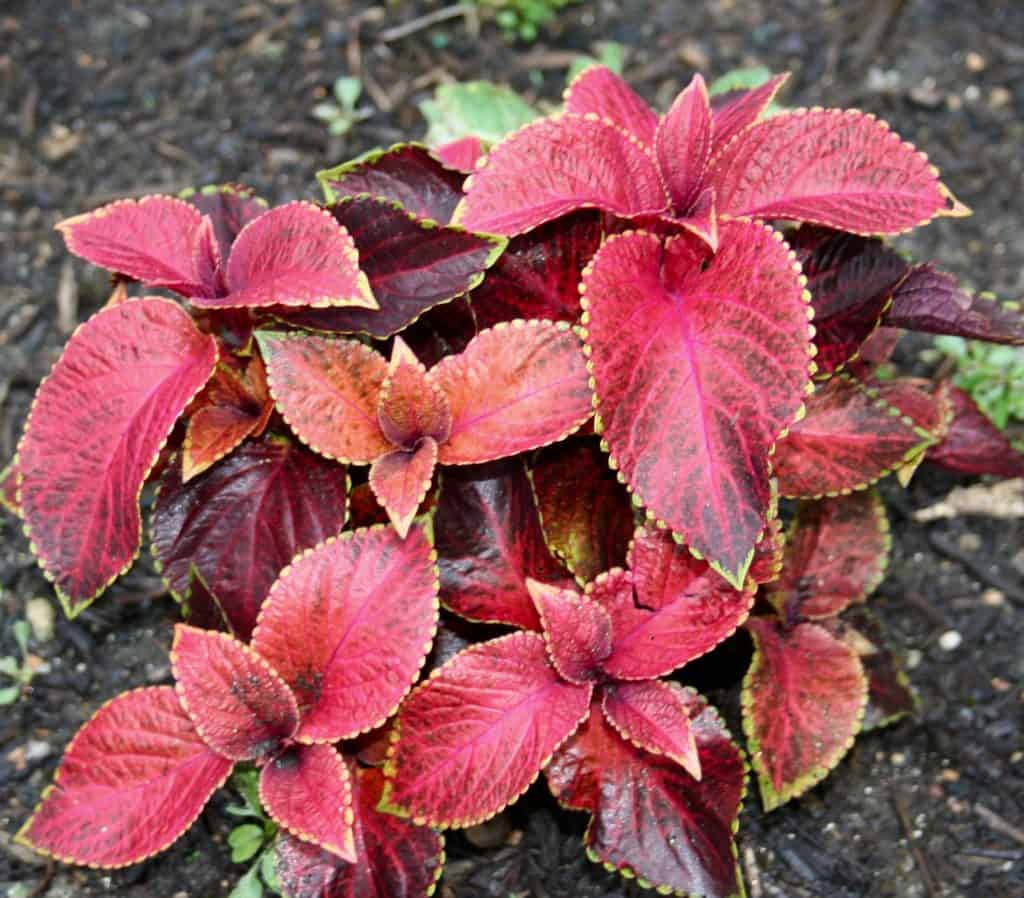 2. Contrasting Colors in a Pollinator Garden
Pollinator gardens are very popular and for good reason – they support bees, butterflies, and all species of pollinators. Pollinating insects need all the help we can give them as they lose more land to development and the widespread use of pesticides kill insects indiscriminately.
Among the simple garden designs and ideas, this one is fairly easy to pull off in any space. You can use this concept as a border or a flower bed idea. Simply place plants with similar characteristics (bee and butterfly supportive plants) but contrasting colors.
I've added salvia, Nepeta (catmint), Perovskia (Russian sage) for blue colors throughout the garden. The orange butterfly weed not only adds a jolt of contrast but the bees and butterflies love it.
So does Shy Boy, one of my cats!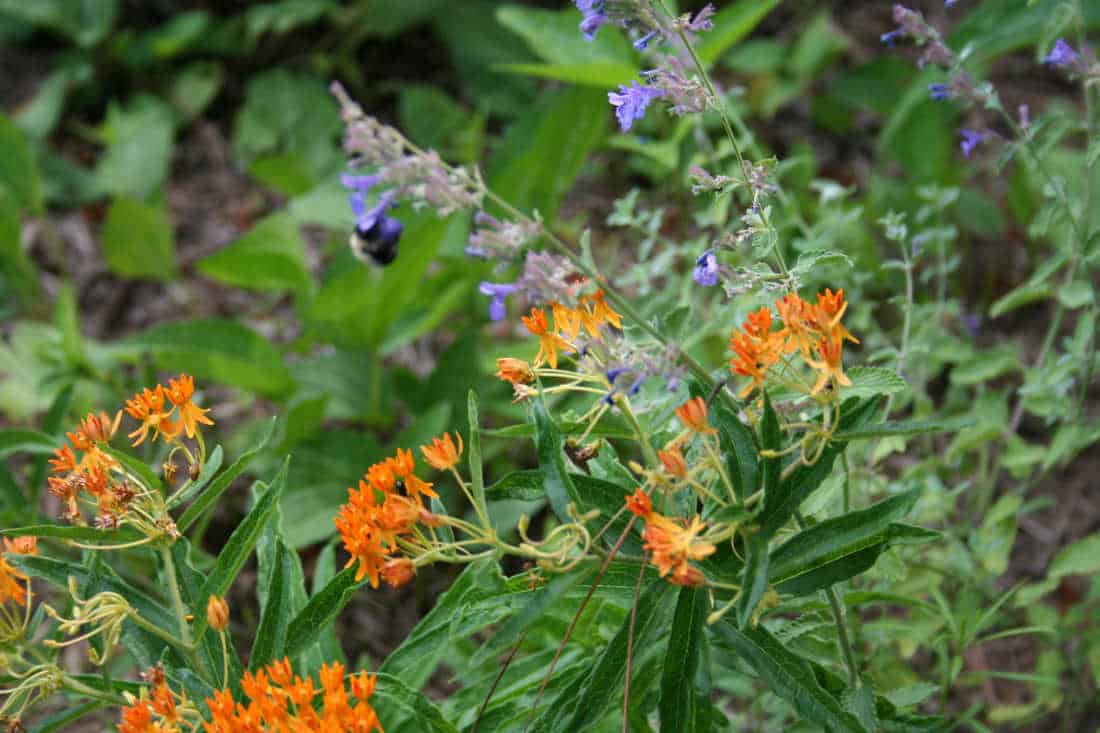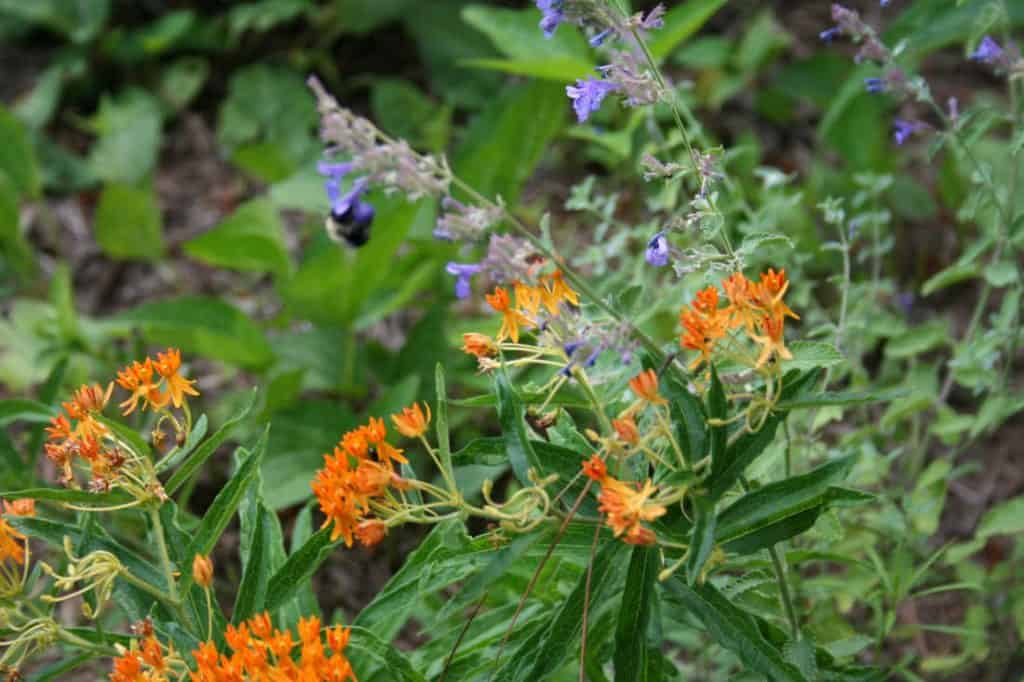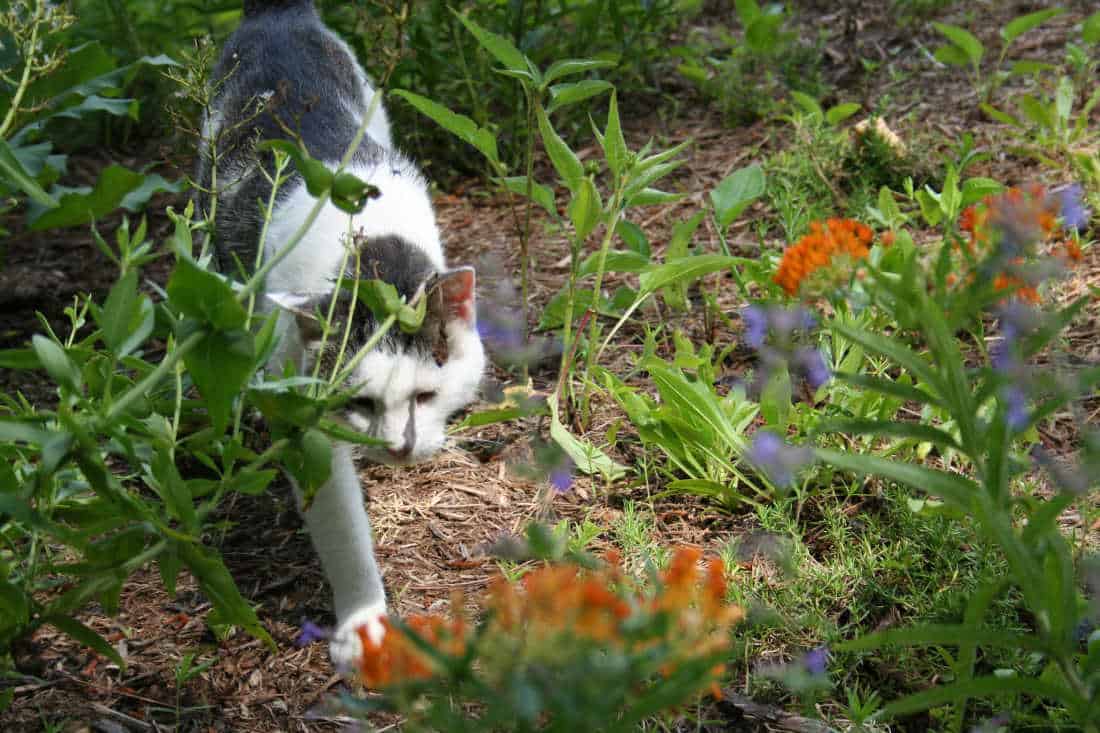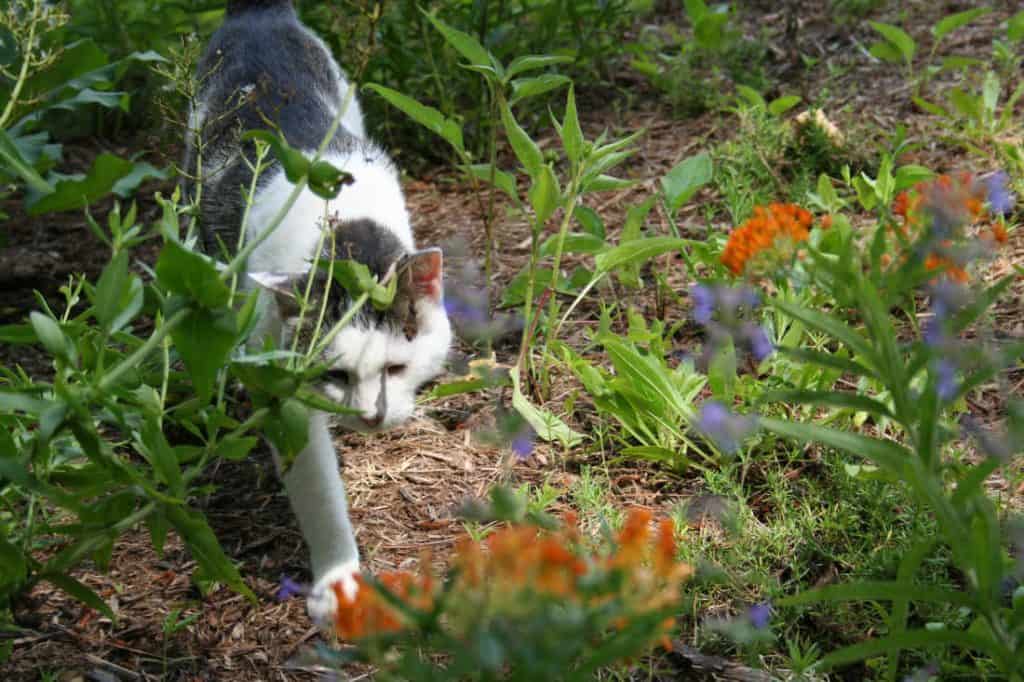 3. Simple Garden Design Ideas – Green Plants, Garden Rocks
Let's assume among the simple garden design ideas that you need to keep it simple. Simple is good, right? It helps you add an attractive garden without a lot of work.
This simple garden design idea offers spots of green for color among clean mulch or rock covered beds. A round evergreen shrub such as in the first picture looks wonderful next to pristine white rocks. It goes well with modern architecture.
You can also use wood chips instead of pebbles or stones for a similar clean look. This is another area near my house where we planted dianthus and phlox among the shrubs and used pine chips to offset the plants.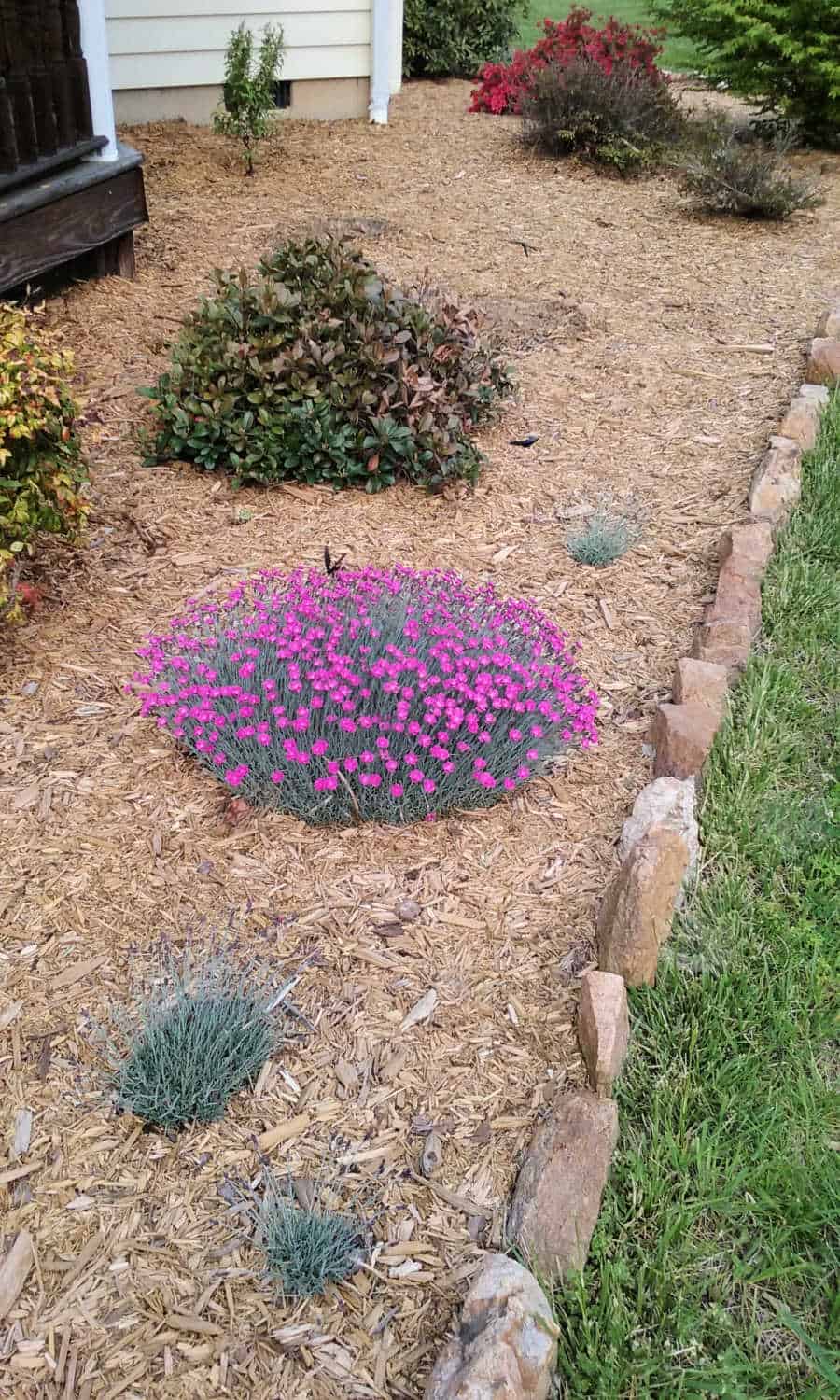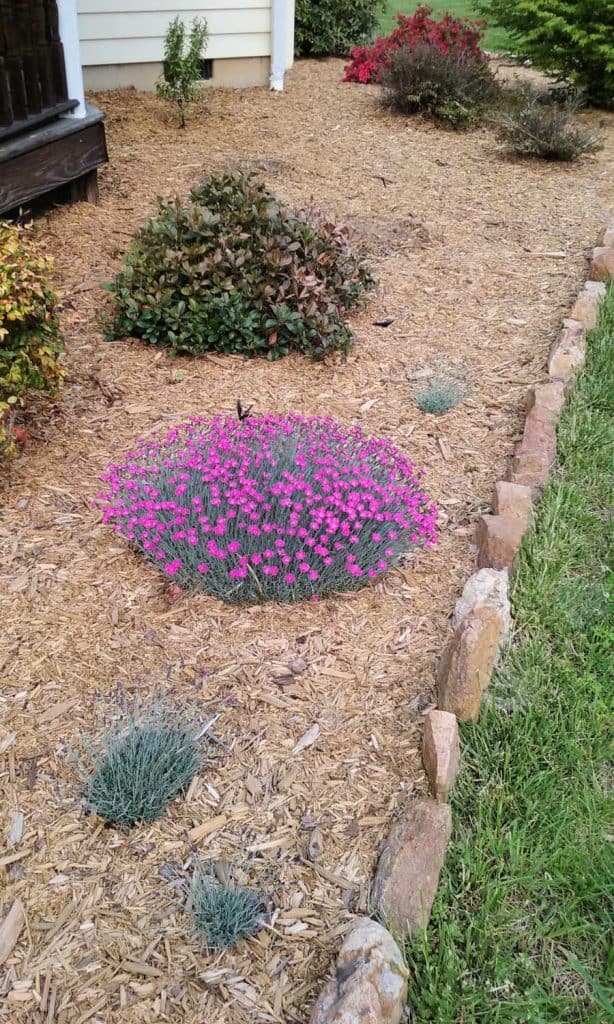 These are just a few simple garden design ideas for your home. All are very accessible for the average gardener and provide a beautiful backdrop for your home and yard.
More Garden Design Ideas
Jeanne Grunert is a certified Virginia Master Gardener and the author of several gardening books. Her garden articles, photographs, and interviews have been featured in The Herb Companion, Virginia Gardener, and Cultivate, the magazine of the National Farm Bureau. She is the founder of The Christian Herbalists group and a popular local lecturer on culinary herbs and herbs for health, raised bed gardening, and horticulture therapy.