This beet and cabbage soup recipe offers a feast for the sense. It's healthy, tasty, and yes, nutritarian ("Eat to Live") friendly. Did I mention it's also vegan? What more could you want in a soup!
Beet and Cabbage Soup Recipe
Jump to Recipe
Since transitioning to a nutritarian diet in 2020, I've lost and kept off 40 pounds. More importantly, I feel better, look better, and have more energy. My husband too is feeling the healthy benefits of eating a plant-based diet.
One thing we both miss, however, is soup. We grew up with cans of Campbell's soup in the cupboard and later on, Progresso canned soup as a 'luxury treat.' There's nothing that compares as comfort food to a can of Campbell's chicken noodle soup or for me, chicken and stars. And there's nothing as quick and easy as heating up a can of soup on a busy day when you're craving a hot meal but don't have time to make it.
As nutritarians, though, we don't eat salty foods anymore, and many cans of commercial soup pack a wallop of salt: something like 1,800 milligrams, or more than we eat in an entire day!
The solution: make more soup from scratch.
Especially this beet and cabbage soup recipe.
Simple, Nourishing Beet and Cabbage Soup
Beets are easy to grow. I grow them each spring and can pickled beets, which we enjoy in salads all year long.
In the fall, I sow a second crop of beet seeds. These beets often mature by late fall, but I keep some in the ground during the winter and harvest them as needed.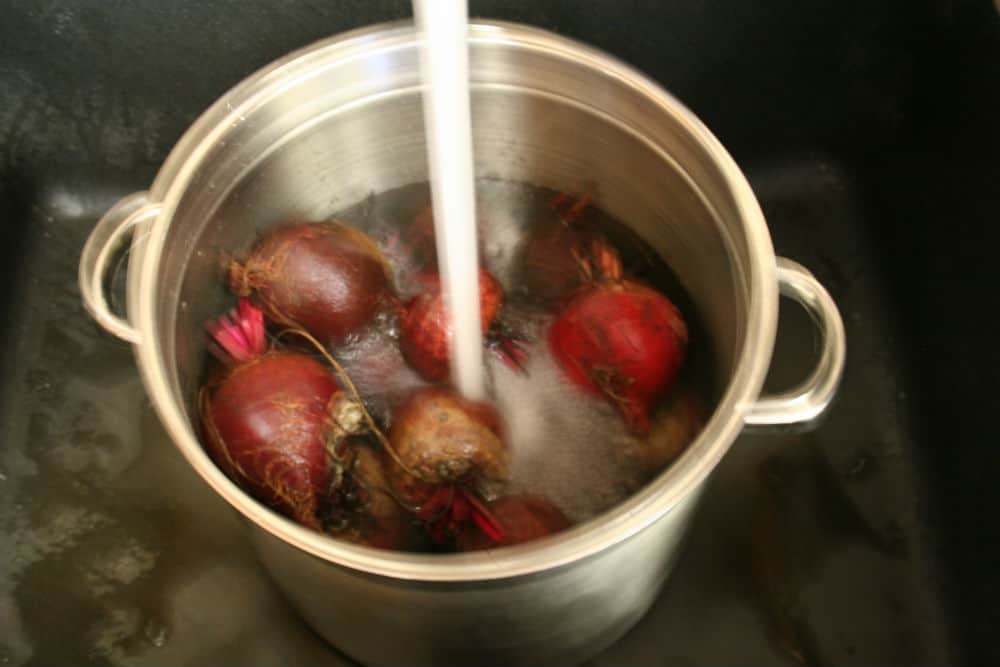 How to Peel Beets
Never peel beets before cooking them. Peeling them before cooking makes the beautiful ruby-red and purple color wash right out. Cook them whole, in the skin, and peel them after cooking.
To cook beets, wash them thoroughly. Snip the stems off near the beet root itself without nicking the surface. Clip off the long tap root as well.
Immerse the washed and trimmed beets into water and heat to boiling. Then, boil for approximately 40 minutes to 1 hour. The smaller the beet, the faster it will cook. I fork-test them to see if they are done. If the beet feels tender, it's done.
Rinse the cooked beets in cool water and let them cool off a bit. With a sharp knife, trim off the top and bottom. Then, just use your fingers to slip the skins off. If the skins don't slip off easy, a serrated knife can be used to scrap off the skins.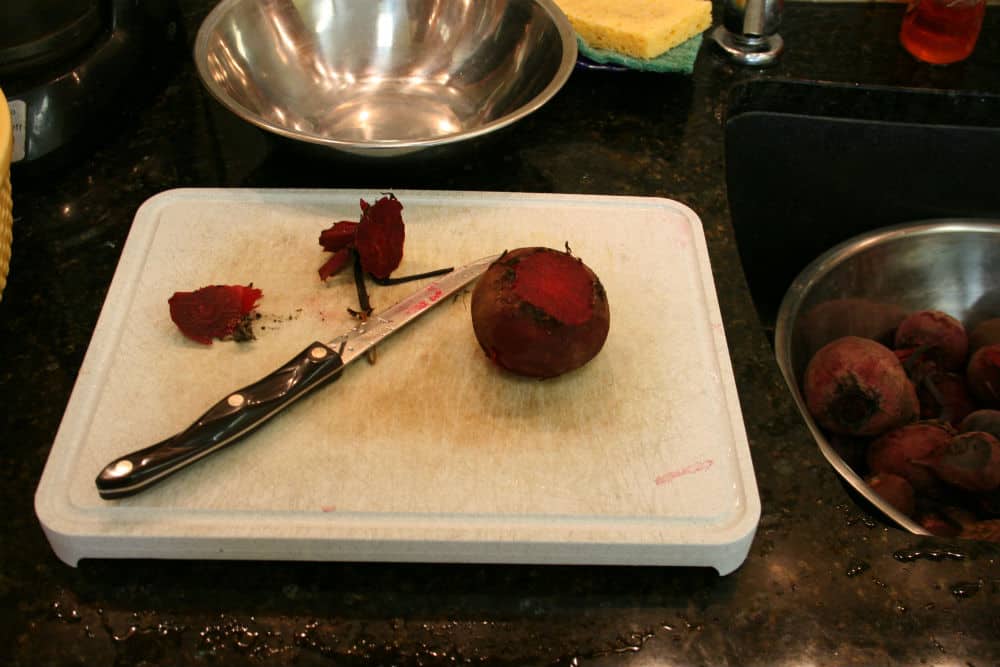 Precook the Beets
The secret to this soup is to precook the beets. Then, when you're ready to assemble and cook the soup, they're ready.
Note: The picture of my soup shows an old-fashioned canning jar. I do not use these jars for canning. I'm lucky to have a few boxes of them from my husband's grandmother. I use these glass jars to store items like soup in the refrigerator. They aren't considered safe any more for food preservation, so use them like I do, in the fridge, or for crafts and hobbies. Refrigerate unused portions of this soup recipe to reheat and enjoy another time.
What to Serve with Beet and Cabbage Soup
The best side dish for beet and cabbage soup is a hearty bread, preferably the Fannie Farmer Water Bread and Rolls recipe. For dessert, try the Chocolate Peanut Cluster candy cookie (yes, it's both!).
This post was updated February 2022 with new images, text and links..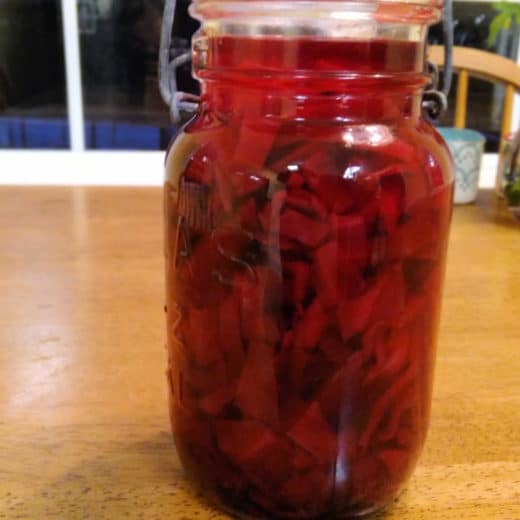 Beet and Cabbage Soup
A hearty, rich, nutritarian diet friendly (vegan) soup recipe.
Ingredients
6

cups

no-salt vegetable broth

2

cups

cooked, peeled, diced beeets

2

cups

shredded cabbage

1

medium

onion

1

tablespoon

apple cider vinegar
Instructions
Peel and dice the onion. Slice the cabbage.

Place onion, sliced cabbage, and precooked peeled and sliced beets into the broth. Heat to boiling.

Turn heat down to simmer. Cover the pot partially. Cook for 30-45 minutes until vegetable are tender.

Before serving, stir 1 tablespoon cider vinegar into the soup. Dress each bowl with a small pinch of pepper and enjoy.
Jeanne Grunert is a certified Virginia Master Gardener and the author of several gardening books. Her garden articles, photographs, and interviews have been featured in The Herb Companion, Virginia Gardener, and Cultivate, the magazine of the National Farm Bureau. She is the founder of The Christian Herbalists group and a popular local lecturer on culinary herbs and herbs for health, raised bed gardening, and horticulture therapy.