Curing and storing sweet potatoes is a fall task that vegetable gardeners should learn. Proper storing of sweet potatoes ensures they will be fresh and ready to enjoy all winter long.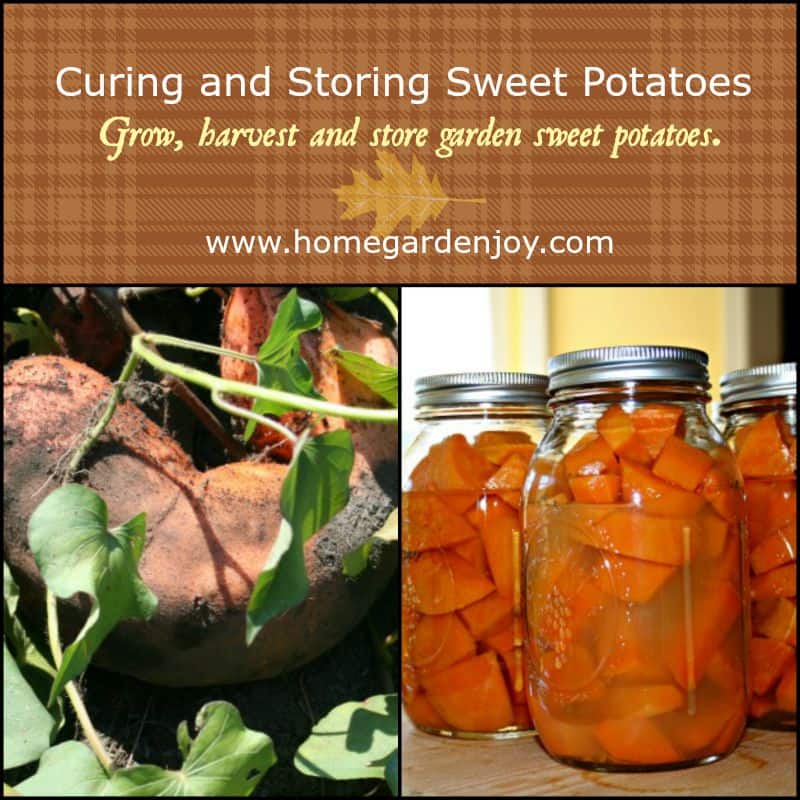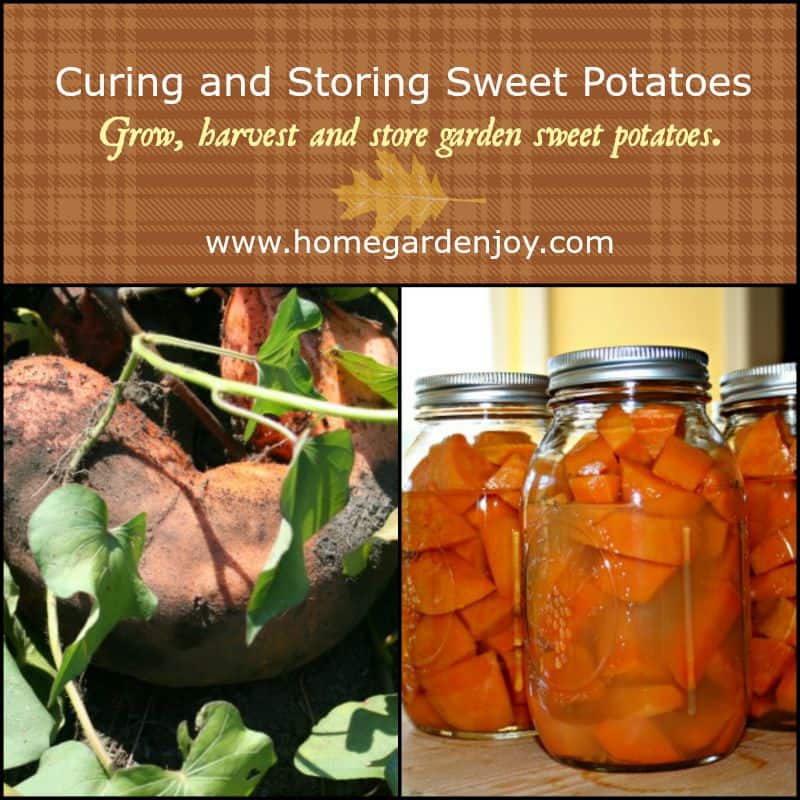 Sweet potatoes are delicious, nutritious vegetables. Knowing how to cure, or prepare them for long-term storage, and store them properly will provide you with plenty of delicious sweet potatoes from your garden to enjoy all winter long.
What Is Curing?
The term "curing" simply means preparing foods for long-term storage. You've probably heard the expression "smoke cured meats" which means that the meat has been prepared for storage with smoke to add to its flavor.
Sweet potatoes must be cured to give them time to heal any accidental blemishes in their skins. If you don't do this, mold can grow on the tuber, rendering it inedible. Curing also prepares the tubers for storage.
Curing and Storing Sweet Potatoes
We've already talked about knowing when to harvest sweet potatoes and how to harvest them. I mentioned in that blog post that you should not wash sweet potatoes, but instead, leave them out in the sunshine for a few hours. Let's assume that you've followed those instructions and have a wheelbarrow, bucket or box full of sweet potatoes that are now dry and dirty.
Brush off the dirt with a cloth, and place the sweet potatoes in a darkened area. I like to use the garage. It gets hot during the day, which is what you want to cure sweet potatoes. Temperatures should be around 80 degrees F and dry. Place the sweet potatoes in a darkened area at this temperature and leave them undisturbed for 7 to 10 days. At the end of this time period, check them again.  If you see any signs of rot or mold, discard the blemished sweet potatoes. The whole, healthy ones can be placed in baskets and stored in a dry cellar or basement.
Storing Sweet Potatoes
Store sweet potatoes in a dry, cool environment. A root cellar is ideal, but who is lucky enough to have a root cellar these days?
I have a plain old basement in my home, probably very similar to what you have. My husband built pantry shelves for me, and I place large, wooden baskets purchased at Tractor Supply on the shelves. Into these baskets go my sweet potatoes, potatoes, onions and garlic.
I sort the sweet potatoes by size. Larger ones are canned or saved for my maple-flavored baked sweet potato dish. Medium-sized sweet potatoes are about the size of a Russet potato, or baking potato. These are excellent served as a side dish and baked plain. I put those into a second basket. Into the third basket go the slips, or starter pieces. These will be overwintered and use to begin next year's garden.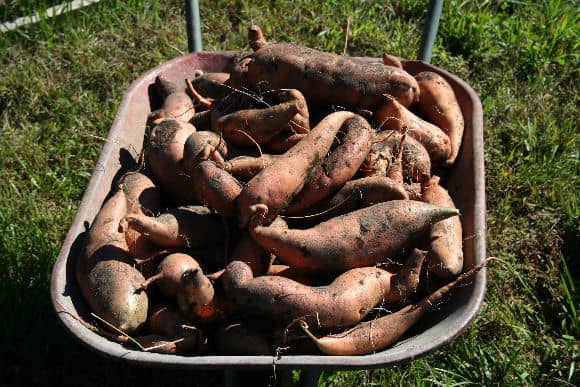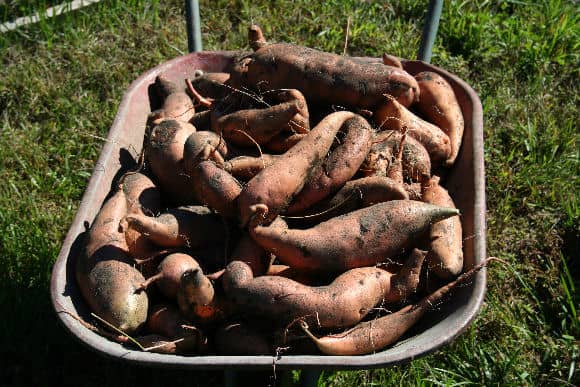 Sweet potatoes should be stored around 55 to 60 degrees F, and in a normal humidity.  If it gets too moist, they may begin to rot; too dry and they'll shrivel up. I've had both happen and it's not pretty.  Checking your stored vegetables weekly helps prevent one rotten potato from spreading contagion through the basket. Simply find a little time on the weekend to go through your stored vegetables, and use any that appear iffy as soon as possible, or discard them.
If you want to store sweet potatoes even longer, consider canning them. If you have a pressure canner, you can preserve sweet potatoes in Mason jars through pressure canning. Tomorrow, I'll share with you my adventures pressure canning my first batch of sweet potatoes.
More Articles on Growing and Storing Sweet Potatoes
If you enjoyed this article, you may also enjoy:
Jeanne Grunert is a certified Virginia Master Gardener and the author of several gardening books. Her garden articles, photographs, and interviews have been featured in The Herb Companion, Virginia Gardener, and Cultivate, the magazine of the National Farm Bureau. She is the founder of The Christian Herbalists group and a popular local lecturer on culinary herbs and herbs for health, raised bed gardening, and horticulture therapy.