Among apple canning recipes, this recipe for spiced apples is a treat you'll look forward to all winter long. This recipe for canned apples studded with cherries and golden raisins fits the bill. The sweet, tasty, spicy mixture makes a perfect dessert.
Jump to Recipe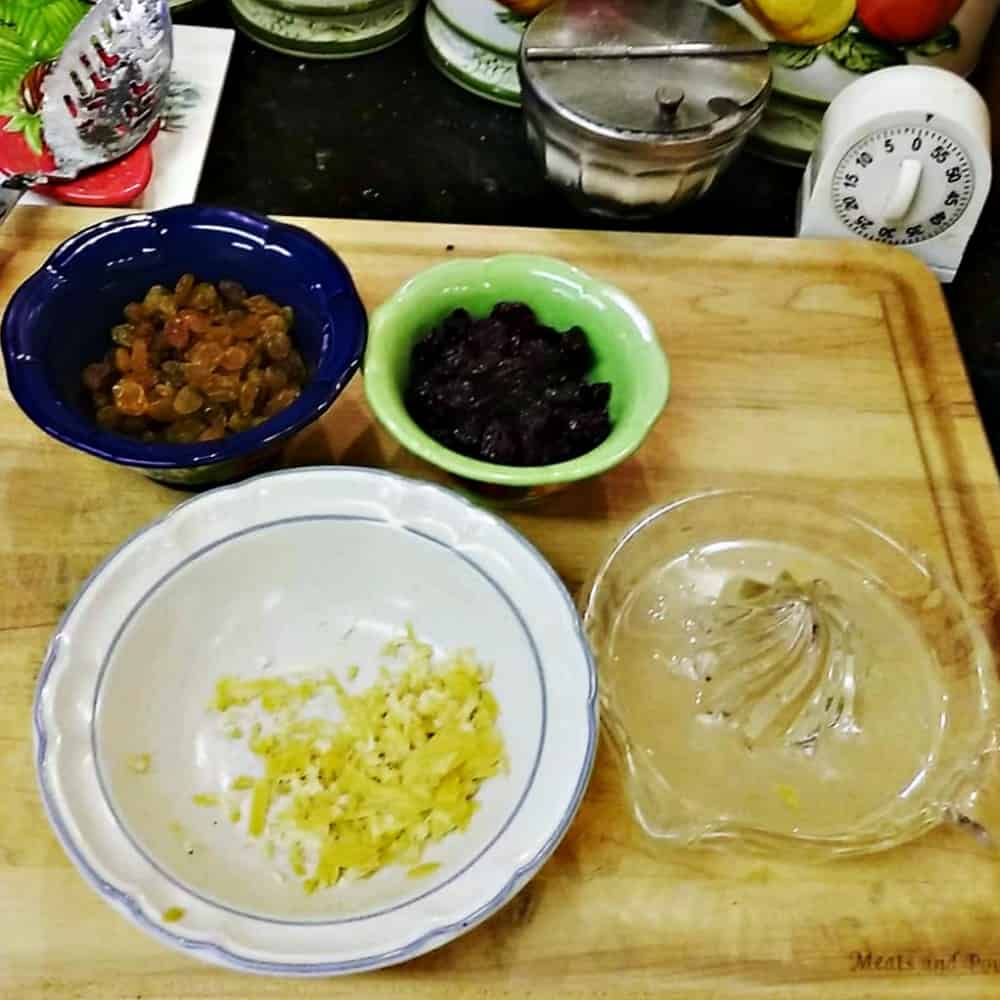 A Different Recipe for Canning Apples
I was looking for different recipes for canning apples after this year's harvest. We picked about 3 1/2 bushels of apples from the trees in our orchard. Most of the apples are from the Jonathan apple tree with a few Red and Golden Delicious varieties mixed in.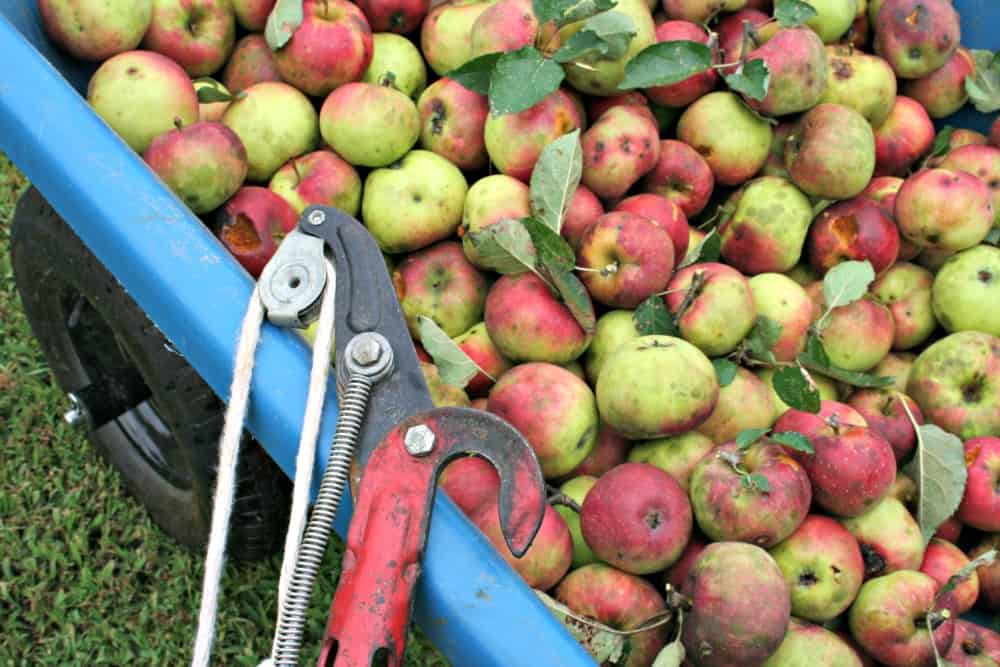 Last year's crop was around four bushels of apples. I canned almost all of them in syrup, using some for my apple cobbler recipe and apple butter which I canned and sent to coworkers and family for Christmas.
We still have plenty of canned apples left. There are only so many you can eat! I do like them mixed into a bowl of oatmeal, but I tend to get sick of them over time.
Enter this recipe. When you're looking for different recipes for canning apples, this one fits the bill perfectly. I adapted it from my favorite canning cookbook, the Ball Complete Book of Home Preserving, which is my ultimate favorite cookbook for all things canning.
A few changes that I made on the original recipe for apples studded with cherries and raisins:
I really don't like nutmeg, so I omitted it from the recipe.
I added a dash of cloves and a quarter teaspoon of powdered ginger instead
I ran out of syrup for the apples, so I whipped up a quick batch of sugar syrup, based on the recipe in the cookbook, and added it to top off the jars before sealing and processing them.
The apples themselves were sweeter than the tart Granny Smith apples that the recipe called for so I suppose you can call that a change as well. I cook with what I have on hand. When your generous apple trees give you 3 1/2 bushels, you do with them what you can and don't complain!
I used about half a bushel of small apples for this recipe and it made eight pint jars.  It's a great recipe when you're looking for different recipes for canning apples.
More Recipes and Articles Like This
Below, you'll find recommended books and products to help you start home canning if you're interested.
The following are affiliate links. We are a participant in the Amazon Services LLC Associates Program, an affiliate advertising program designed to provide a means for us to earn fees by linking to Amazon.com and affiliated sites. Thanks so much for being a part of Home Garden Joy!
Ball Complete Book of Home Preserving: 400 Delicious and Creative Recipes for Today
Get the book.
Granite Ware Covered Preserving Canner with Rack, 12-Quart
Hot water bath canning pot (canner)
Mirro 92116 Polished Aluminum 5 / 10 / 15-PSI Pressure Cooker / Canner Cookware, 16-Quart, Silver
Mirro Pressure Canner
First Published: August 2018 Last Updated: October 5, 2020
Canned Apples with Cherries and Golden Raisins
A sweet, spicy autumn apple dessert, canned when you have plenty of fresh apples. The wonderful aroma of this recipe cooking in your kitchen will make you dream of bonfires, hoodies, and fall everything!
Ingredients
24

medium sized apples

Peeled, cored, and cut into eights or sixteenths

2

cups

Sugar

2

cups

water

2

tablespoons

lemon zest

1

tablespoon

lemon juice

1/2

cup

golden raisins

1/2

cup

dried cherries

1

teaspoon

cinnamon

1/4

teaspoon

dried powdered ginger

Dash

cloves
Instructions
Prepare a hot water bath canner, eight pint-sized canning jars, lids and rings.

Peel, core, and slice the apples. Submerge apple slices in a bowl filled with 1 cup of lemon juice and 4 cups of ice water until all are peeled.

Once apples are peeled, drain the lemon and water away. Place all apples in a sauce pan. Toss with sugar to coat. Cover; set aside for 20 minutes. Do not heat.

While the apples sit with the sugar, zest and juice the lemon.

After the 20 minutes are complete, pour water into the apple mixture. Heat to boiling. Add lemon zest, juice, spices, raisins and cherries. Boil gently for 5 minutes.

Use a slotted spoon and place fruit into canning jars. Ladle hot syrup mixture over fruit leaving 1/2 inch of headspace.

Remove air bubbles. Clean rims. Place lids and rings. Place into hot water bath canner with enough water to cover the tops as per directions for your canner.

Process for 20 minutes in hot water bath canner.

Remove canner lid. Wait 10 minutes after processing time to remove jars.

Allow to cool. Check seals. Label and date.
Jeanne Grunert is a certified Virginia Master Gardener and the author of several gardening books. Her garden articles, photographs, and interviews have been featured in The Herb Companion, Virginia Gardener, and Cultivate, the magazine of the National Farm Bureau. She is the founder of The Christian Herbalists group and a popular local lecturer on culinary herbs and herbs for health, raised bed gardening, and horticulture therapy.