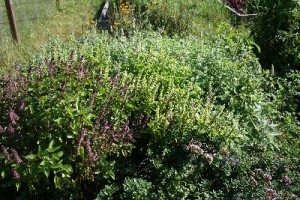 I'd always wanted to grow catnip.
Now I know better.
Innocent little me. I thought I'd grow a few plants, harvest some organic nip for Pierre, and that would be the end of it.
The catnip had other ideas.
I planted three plants in the herb bed, but they looked so small….I planted three more in root vegetable bed, next to the carrots. I'd read somewhere that catnip repels pests from carrots.
And it grew. And grew. And grew.
On Sunday, Hubby asked me to help him with some work outside. We hauled cartload after cartload of compost out to the back lawn, and Hubby sprinkled compost on the bare patches of lawn, then seeded. He asked me if I wanted help pulling up the last of the dead pepper plants in the vegetable garden, so off we went.
"What's that?" he asked, pointing to a huge silvery green bush that spilled out of the raised bed and onto the pathway.
"Catnip."
I eyed it. It sneered back at me. It was time for battle.
The catnip had grown. Three tiny plants in each bed had turned monstrous, tentacles reaching into every other herb, swallowing them whole. I took my spade. I whacked. I struggled. I removed four plants, leaving two that I trimmed back to the crowns.
And there among the bed…carrots. Another dozen carrots. Spindly and weak to be sure, but growing all year in the shade of the catnip.
I'm told carrots are all the sweeter from the frost. They're going to be all the sweeter because I wrestled them away from the catnip that ate the carrots!
Jeanne Grunert is a certified Virginia Master Gardener and the author of several gardening books. Her garden articles, photographs, and interviews have been featured in The Herb Companion, Virginia Gardener, and Cultivate, the magazine of the National Farm Bureau. She is the founder of The Christian Herbalists group and a popular local lecturer on culinary herbs and herbs for health, raised bed gardening, and horticulture therapy.