This apple cobbler recipe will make you appreciate the fresh taste of apples! If you love apple cobbler, try this recipe today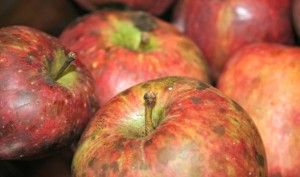 Oh yeah…it's apple season! Apples are one of my "desert island foods". You know when you're just goofing off with your friends and someone says, "If you were on a desert island and could only eat three foods for a year, what would they be?" I'd have to say "Apples!"
Not just any apples, though. Macintosh. Empire. Jonathan. Jonamac. Maybe a Gala or two…if there wasn't anything else available….
Crispy, crunchy, sweet and juicy. Apples are like the perfect food. You can throw one in your car if you're running errands and it won't go bad. Plus, it fits nicely in the cup holder. Kids can carry them in their backpacks without worrying about them getting bruised, squashed, or oozing juice all over the place.
When I worked in New York City, I used to keep a big bowl of apples in my office. One of my former staff members confessed, "Some days when I was broke, those apples were all I ate for lunch!"  Yes, apples should be called the Staff of Life, not bread!
So, to celebrate all things apple, all things good and juicy and sweet in this, the season of apples, Foodie Friday kicks off this month a few of my favorite apple recipes. Enjoy!
Simple Apple Cobbler Recipe
Preheat the oven to 400 degrees F and have at the ready a square oven-proof casserole dish.
Make the filling for the cobbler by peeling and slicing 6 cups of apples, and adding them to a pot on the stove in which you have cooking 1/4 cup of water, 2/3 cup of sugar and 1 tablespoon of lemon juice.
Cook until tender. When they're almost done, make a slurry of 2 tablespoons of water and 1 teaspoon of cornstarch. Add to the filling mixture, stirring it in, until the entire mix thickens.  Pour the filling into an 8 x 8 x 2″ baking dish.
Make the topping by combining  1 cup of white flour (all purpose is fine), 1/4 cup of sugar, 1 teaspoon baking powder,  1 teaspoon cinnamon, 1 egg well beaten,  and 3 tablespoons milk.
Mix the dry ingredients with a fork. Add egg and milk and stir until crumbly. Using a pastry cutter or your fingers, add 3-4 tablespoons cold butter or margarine. Mix until it resembles coarse crumbs, then spread the crust mixture evenly over the filling.
Bake for 20 – 25 minutes.
Jeanne Grunert is a certified Virginia Master Gardener and the author of several gardening books. Her garden articles, photographs, and interviews have been featured in The Herb Companion, Virginia Gardener, and Cultivate, the magazine of the National Farm Bureau. She is the founder of The Christian Herbalists group and a popular local lecturer on culinary herbs and herbs for health, raised bed gardening, and horticulture therapy.