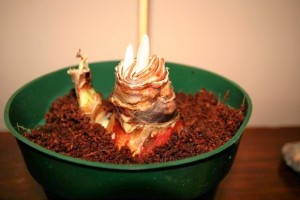 My amaryllis, Week 1.
Some people mark the approach of Christmas with an Advent Calendar, or perhaps a shopping spree. Not me. Yesterday as I did my grocery shopping, I spied the ubiquitous tower of amaryllis bulb kits. At only $5 each, they're a bargain. Each kit contains a pot, soil, and the amaryllis bulb, along with fairly clear instructions on how to plant your bulb.  I bought Amaryllis "Apple Blossom" because I love apple blossoms. It's a light pink and white striped flower.
I've decided to mark the approach of Christmas by photographing my amaryllis kit and documenting its growth right here on the blog. Each Sunday, I'll take new photos of the plant, and each Monday until Christmas (or whenever it blooms!), I will share with you its progress.
It now has a place of honor on the warm, sunny and bright bookcase in my office, but if the light proves too strong for it, I will move it to the top of the filing cabinet.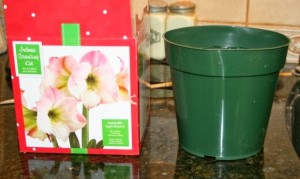 STEP 1:  Buy a kit.  This is the $5 kit from Wal-Mart. It contains the amaryllis bulb, the pot, and a coir disk.  Coir is the husk of the coconut. It is dried and pressed into a disk and is used for a growing medium.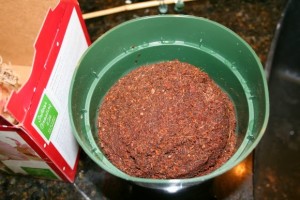 STEP 2:  I followed the directions on the box. The coir disk is unwrapped and placed in the bottom of the pot. I added 3 1/2 cups of very warm, almost hot water. It expands the coir so that it fills the pot. I stirred it up to make it into soil.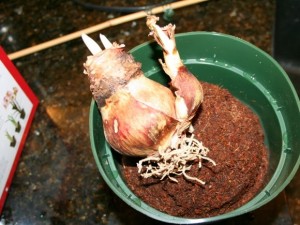 STEP 3:  Plant the amaryllis bulb.  Plant it pointy-side up.  The roots, shown above, go in the soil. Don't plant it too deeply. Look at the illustration on the package.
Jeanne Grunert is a certified Virginia Master Gardener and the author of several gardening books. Her garden articles, photographs, and interviews have been featured in The Herb Companion, Virginia Gardener, and Cultivate, the magazine of the National Farm Bureau. She is the founder of The Christian Herbalists group and a popular local lecturer on culinary herbs and herbs for health, raised bed gardening, and horticulture therapy.