The nice folks at J. Berry Nursery sent me information today on several new crapemyrtle introductions. The Black Diamond (TM) series looks like a colorful introduction for southern gardens.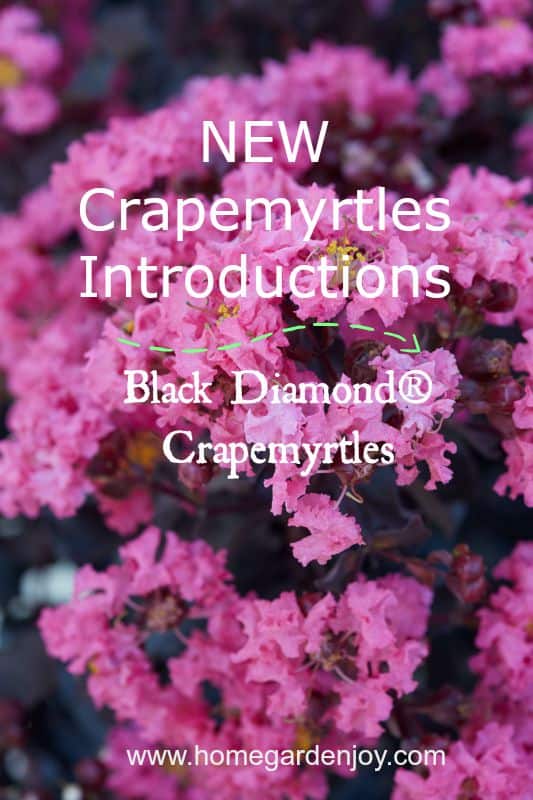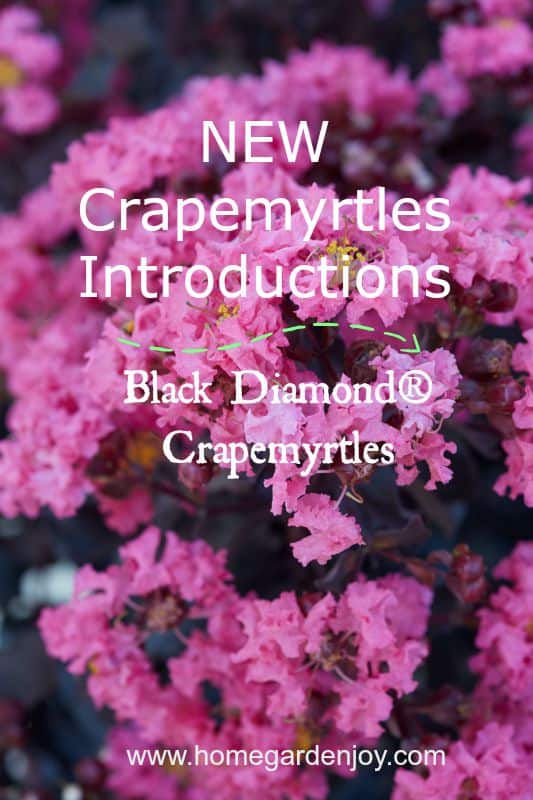 I'm new to growing crapemyrtles. My father-in-law tried to grow one in our Huntington, Long Island yard, but it never bloomed. Here in Virginia, we planted three we purchased at a discount store and crossed our fingers. Luckily for us, crapemyrtles thrive in a wide variety of conditions, and our three have now produced multiple "babies" which grace a new garden bed we installed earlier this year.
Now is the time to add new crepe myrtles to your garden, which is why I was especially pleased to see the notice from J. Berry Nursery about the new Black Diamond series. These new hybrids are hard from zone 7 to 10 and semi-hardy (treat them like perennials) in zone 6. Northern gardens should treat them as annuals; they probably won't survive a New England winter.
The Black Diamond crepe myrtles feature "black" foliage and colorful, long-lasting blossoms. I'm not quite sure how "black" the foliage is, but I have a "Mystic Magenta" Black Diamond crepe myrtle en route, so I'll let you know if the foliage is as dark as they say. It should certainly add an interesting focal point to my new garden area if indeed the foliage is black!
Black Diamond® Crapemyrtle Collection
Here are the new introductions: Black Diamond® Crapemyrtle Collection:
Shell Pink™ – bright coral
Purely Purple™ – purple
Mystic Magenta™ – bright pink or magenta
The tree attain a maximum height of about 1o to 12 feet. They leaf out in early spring, and bloom mid July. The nursery claims they continue blooming until the first frost.
Crepe myrtles make excellent street trees here in the south, and many gardeners and homeowners love to line their driveways with crepe myrtles. One of the most breathtaking sights I've seen in a local garden was a line of about 30 crepe myrtles marching along the fence at a small farm. I saw it en route to Charlottesville a few weeks ago, and I'll never forget how beautiful that line of trees looked in the middle of the green field as they flanked the white board fence. Whoever owns that farm has an eye for beauty.
The entire Black Diamond series of crepe myrtles appears to add lovely hybrids that would work equally as well in a small garden as on that farm I saw in Charlottesville. Other attributes that make this series of crepe myrtles particularly attractive are their drought tolerance and resistance to many typical diseases such as mildew and cercospora leaf spot.
The company offered me a sample tree, and I will plant my sample and report back to you on how well it grows. They did not offer me any compensation for this blog post (I asked for the information so I could share it with my readers). I have permission from J. Berry Nursery to use their photographs in this blog post. Permission is on file with my company, Seven Oaks Consulting.
Many thanks to Tamara at J. Berry Nursery for alerting me to these new trees. Looking forward to following your company and learning more about the lovely plants coming from this Texas-based nursery!
You can find the Black Diamond series of crepe myrtles at Home Depot stores. Use the store locator on the company website to find a store near you.
P.S: You can spell crapemyrtle as one word or crepe myrtle…both are acceptable. I went with "crapemyrtle" because that is how this company prefers it, but when I worked at a garden center in Long Island, it was a crepe myrtle. You say potato, I say pohtahto….
More Article About Crape Myrtle
Jeanne Grunert is a certified Virginia Master Gardener and the author of several gardening books. Her garden articles, photographs, and interviews have been featured in The Herb Companion, Virginia Gardener, and Cultivate, the magazine of the National Farm Bureau. She is the founder of The Christian Herbalists group and a popular local lecturer on culinary herbs and herbs for health, raised bed gardening, and horticulture therapy.