You can learn how to make wild blackberry jam. It's easy if you have blackberries growing near you. Just make sure you can identify them correctly!
Use blackberry jam on its own or substitute blackberry jam for the raspberry jelly in this muffin recipe. It's delicious and adds a surprising twist to my favorite muffin recipe.
Last week, I wrote about picking wild blackberries on our farm. I ate the first batch of blackberries, but the plants have been very generous this year, and I was able to pick another quart and a half of berries this past weekend. I decided to try my hand once again at making jam.
Do you remember my last jam-making event? It was a fiasco, which we refer to as the "lemon-flavored-gasoline-tasting curd" because frankly, that's what it tasted like. Hmn, sounds appetizing, doesn't it? It was actually supposed to be persimmon jam. Persimmons, however, are very finicky fruits. If they aren't ripened properly, the tannins make the fruit taste incredibly bitter, and the bitter aftertaste lasts a long time. I used a bag of persimmons from my friend Patty's yard, and some unripe ones must have gotten into the batch. I used too much pectin in the recipe, hence the curd-like consistency. And don't forget the lemon taste layered over the 'gasoline' taste of the tannins from the unripe persimmons – that was too much lemon juice added to the receipt. I threw out the entire batch, jars and everything.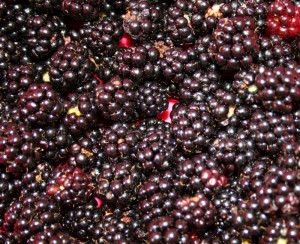 Now you understand why I was so reluctant to try my hand at making jam again. Yet here I was with all these fresh, free blackberries, I had my hot water bath canner out to can beets on Saturday, and I really wanted to make jam. So I sat down at the computer and searched for 'blackberry jam recipes.'
The Ball Canning & Recipe website is AMAZING. It is a great website filled with wonderful tips. It's easy to navigate, easy to convert recipe ingredients to make more or less of what you have, and overall, a user-friendly, fun website. It's there that I found the basic recipe for blackberry jam. If you have more berries, use their Ball Pectin Calculator to convert the recipe.
Recipe: How to Make Wild Blackberry Jam
You will need a hot water bath canner, half pint jars, new lids, and screw band lids. A jar lifter, magnetic lid lifter, and funnel are all useful tools too. I have a set made by Ball. You will also need measuring cups, measuring spoons, and paper towels to clean up any spills. Lastly, you will need a large bowl and a potato masher to prepare the berries.
Fill your water bath canner so that the jars, when immersed in the bath, will have at least an inch of water over the top. Heat. While the water heats, prepare the jars – wash them, wash the screw bands in hot, soapy water. Place the lids in a pot of warm water on the stove.
Prepare the blackberry jam…you will need:
1 quart and 1 pint of fresh wild blackberries (mashed down to 2 2/3 cups with liquid for about five, half-pint jars)
3 tablespoons of Ball Real Fruit Pectin
3 1/3 cups of sugar
Mash the berries with your potato masher until everything is smashed. Pour into a large saucepan and heat. As the berries heat, add the pectin a little at a time, stirring. Bring the mixture to a full, rolling boil – turn the heat up, wear an oven mitt on your hand to stir it if it gets too hot! When the mix is boiling completely, over high heat, start adding the sugar a little at a time. Stir constantly to dissolve the sugar.
Boil it HARD for one full minute – make sure it's boiling, boiling, boiling! After a minute, turn off the heat. Ladle it into the jars, wipe the rims with the paper towel, and use the magnetic lid lifter to place lids on jars. Add the screw bands and tighten just to finger tight. Place in the hot water bath canner and cover the canner with the lid. Get the water good and boiling and then start timing. Process jars for 10 minutes, then remove canner lid and wait 5 minutes. Remove jars using jar lifter and set on a board or towel to cool. Allow to cool 12 hours before moving. Tighten screw band lids, label, and done!
I never thought I'd make jam, but not only did I complete this recipe, but it tastes FANTASTIC! I had a little jam left over, so I poured it into a Pyrex dish (the kind I use to make jello or pudding) and refrigerated it. This morning I had it on homemade cornbread. What a breakfast.
Jeanne Grunert is a certified Virginia Master Gardener and the author of several gardening books. Her garden articles, photographs, and interviews have been featured in The Herb Companion, Virginia Gardener, and Cultivate, the magazine of the National Farm Bureau. She is the founder of The Christian Herbalists group and a popular local lecturer on culinary herbs and herbs for health, raised bed gardening, and horticulture therapy.